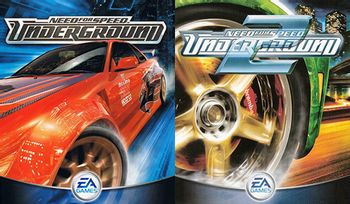 Need for Speed: Underground is a sub-series of Electronic Arts's Need for Speed franchise developed by EA Black Box. Consisting of the titular first game in 2003, the open world Underground 2 in 2004, and the portable Underground Rivals in 2005, these games drastically changed the focus and identity of NFS from racing exotic cars in various scenic tracks while being chased by the cops to racing heavily-customized import tuners in urban environments at night when there are no cops around. In addition, Underground introduced an actual plot to the series for the first time.
In Underground, you are an unnamed racer in Olympic City with your friend, Samantha. After being awoken from a daydream by Samantha, she shows you the ropes around the city's underground street racing scene. You race around the city, meet a mechanic named TJ, and beat competitors left and right until you could come up to Eddie. Eddie is the best racer in the city, and also is the leader of The Eastsiders who drives a customized orange Nissan Skyline GT-R R34 (the car seen on the game's cover). He also has a girlfriend named Melissa.
When you finally do so, he challenges you and Samantha to a sprint race that leads to her wrecking her Hello Kitty-esque Honda Civic Si in the process, which TJ takes for himself and repairs (and redesigns) it afterwards. Eddie tries to get rid of you to no avail, as you win back Samantha's car and beat Eddie and his crew. Finally, a mysterious driver in a silver Nissan 350Z challenges you to compete in one more race. After you beat the driver and they reveal their identity, you are deemed the best racer in the city.
However, your time of celebration will not last long. Leading into the events of Underground 2, a mysterious bald man calls you to try to force you into joining his crew, but you hang up on him. En route to a celebratory party, you are rammed in your Skyline by a black Hummer H2 driven by a man with a scythe tattoo on his hand, calling someone to say that he "took care of a problem."
Six months later, you take a flight to Bayview with Samantha recommending in a note that you meet her friend, Rachel Teller. After arriving at the airport, you drive Rachel's green Nissan 350Z (the car on this game's cover) to get your first car from Bayview for free as insurance payment for the totaled Skyline (although you do have the option to race in three events in her car, though she won't like it).
From there, you race around the city, winning events and collecting sponsorships. Eventually, you cross paths with The Wraiths, led by Caleb Reece, and as you win races against them, you hear more about their shady work in their attempt to control Bayview's racing scene, such as manipulating sponsorships against both you and Rachel. It's also revealed that he knows something about the accident you suffered in Olympic City. Later on, after you win a series of URL (Underground Racing League) races, a female Wraith member named Nikki Morris defects from them and joins your crew.
Infuriated by your constant winning, Caleb eventually challenges you to one last race against him in his 2004 Pontiac GTO. Once you beat him, The Wraiths are dissolved, Caleb is forced to leave town, and you are (again) deemed the best racer in the city.
Underground Rivals has no plot, and thus does not connect to the above stories.
---
These Need for Speed games contain examples of the following tropes:
Always Night: Justified given that the street racing depicted in both games is entirely and explicitly illegal. Sometimes in Underground 2 it brightens up a bit and turns to dawn, but it quickly skips to dusk, then back to night again.
Bag of Spilling: Justified in Underground 2: the player's car is totaled in the opening cutscene, forcing them to move to Bayview and start all over again.
---