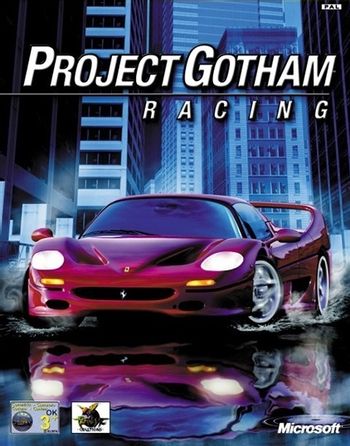 "Life starts at 170 mph."
Project Gotham Racing was a racing game series developed by Bizarre Creations. All games in the series were published by Microsoft. The series was a Spiritual Successor to the Sega Dreamcast game Metropolis Street Racer, also developed by Bizarre.
Unfortunately, the series would be abandoned due to Activision buying Bizarre Creations and eventually closing the developer shortly after releasing Blur. It was highly believed that Turn 10 Studios, creator of the Forza Motorsport series, has picked up PGR and a PGR5 might be in the works, but these rumors, unfortunately, have been long since debunked. The gap PGR left in the market is now filled by Playground Games'note Which was founded by several racing game veterans from the UK, including staff from Bizarre! Forza Horizon series, which is also considered the spiritual successor to PGR (Forza Horizon 4 even has Edinburgh, complete with a recreation of one of PGR2's tracks in the game). Another spiritual successor was Driveclub, released in 2014 by Evolution Studios for the PlayStation 4.
Known for being the series that introduced the world to Geometry Wars, which is included from the second game onwards as an Easter Egg.
Despite the name, the game has no connection to Gotham City. Although, if it did, it would be awesome. In fact, the name of the series was originally its development codename, which became a Permanent Placeholder due to said codename being printed on the billboard prior to the game's true name reveal, and without any time left to reprint the correct one, Bizarre and Microsoft opted to use that namenote Later Bizarre projects would use codenames filled with profanity, so the mistake would not be repeated again.
List of PGR games released:
Project Gotham Racing (2001, Xbox)
Project Gotham Racing 2 (2003, Xbox)
Project Gotham Racing 3 (2005, Xbox 360)
Project Gotham Racing Mobile (2007, Mobile)
Project Gotham Racing 4 (2007, Xbox 360)
Project Gotham Racing: Ferrari Edition (2009, Zune HD)note
---
Project Gotham Tropes:
---