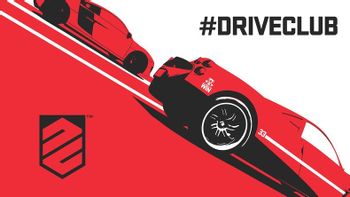 "How fast do you wanna go?"
—
Hybrid
,
"Be Here Now"
(main theme)
The first rule about Driveclub: you do not talk about Driveclub.
...We kid, we kid.
Driveclub (usually stylized as #DRIVECLUB) is a 2014 Racing Game developed by Evolution Studios and published by Sony Computer Entertainment for the PlayStation 4. The main focus of this game is the connected social experience in clubs formed of six people and creating challenges used to earn Fame (think of Kudos) on circuits based on locations from around the world, including Canada, Norway, Chile, Scotland, India and Japan. Think of OutRun meets Battle Gear and you'll have a bit of an idea of what it's all about.
While the game was released on October 7th, 2014, it was meant to be released on the console's launch day. It got delayed to have some of its features perfected, and was subsequently released almost one year later. A Playstation Plus Edition was announced, but the game's servers ran into stability issues on launch, breaking the online features and causing the PS Plus version to be postponed until they get more stabilized, along with an in-game app. Due to this, the first car pack was given free as a compensation for the disastrous launch, and the upgrade to PS Plus version on the Store has been discounted by half. The PS+ version eventually launched on June 25th 2015, and feature-wise is the full game, but content-wise it only has India tracks, 15 cars and the Startline tour. note An interesting thing of this version is that the Season Pass or paid DLC content is completely playable even if you didn't pay the upgrade. However, to play non-Indian tracks in non-tour mode you must upgrade.
However, Evolution has been supporting the game giving them each month free updates with new features ranging from dynamic weather to replays to new multiplayer modes, more tracks and free cars (sometimes more than one) with monthly updates. In addition, a Season Pass is being sold which delivers each month new liveries, two event packs and five (four if it is a Lamborghini pack) new cars until the end of July. The last DLC pack was launched on March 22nd, 2016, on the exact same day Evolution Studios was shut down, although a VR version was in the works with new circuits: those made it for free in the base game in an update in late 2016, with that update and VR being the very last projects Evo has worked so far... under that name. Codemasters would buy the studio a month after its shutdown, rebranding it as Codemasters Cheshire and developing Onrush and Dirt 5.
A standalonenote If you have the base game, it's cheaper and is integrated in the main game Expansion Pack, titled Driveclub Bikes, was released on October 27, 2015 - 20 days late of the game's first anniversary. As announced by Sony on March 30, 2019,
Driveclub and all its DLC were removed from purchase on PlayStation Network on August 31, 2019, and the game's servers went offline on March 31, 2020.
---
This game provides examples of:
---