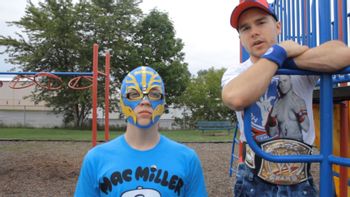 "I'm Froggy Fresh, and I ain't gonna rest!"
—
Froggy Fresh
,
Same Old Kid
Tyler Cassidy, (previously known as Krispy Kreme and later as Froggy Fresh) is a rapper who grew up in Flint, Michigan. He rose to popularity after his first song, "The Baddest", became a viral video due to its childish, over-the-top Boastful Rap lyrics.
Cassidy released three albums under the Froggy Fresh persona: Money Maker (Reloaded)note The "Reloaded" part of the title refers to how he had to redo many of the songs after being forced to change his name, Dream Team, and Escape From Hood Mountain. Froggy Fresh originally called himself Krispy Kreme, but had to change his name due to legal issues with the donut company. Froggy Fresh's songs often have a goofy style with childish, Stylistic Suck lyrics, though some of them, such as "Same Old Kid", are more serious and showcase genuine rap talent.
In 2018, the Froggy Fresh character was retired and he started releasing music under his real name. These songs are mostly much more serious, while the funny ones feature adult humor and Black Comedy (with titles such as "Every President Is Gay" and "Macklemore's Wife Is A Cunt"). Also unlike his work as Froggy Fresh, these songs are more R&B than rap. After many videos of him playing the piano while singing both covers and original songs, he released his first non-Froggy Fresh album, Renee, in 2019.
---
Froggy Fresh's songs provide examples of...