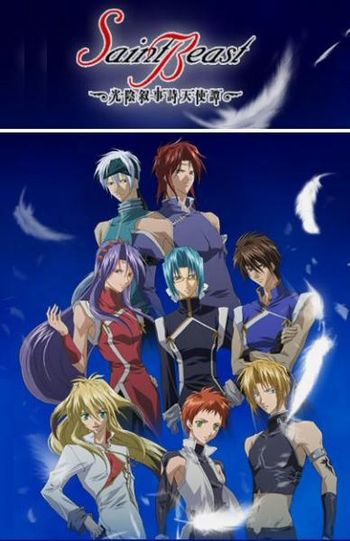 Created by Arisugawa Kei, Saint Beast is a Yaoi series that grew out of characters introduced in Angel Tales but largely divorced itself from those origins. First a series of audio dramas, it has been adapted to two anime arcs, OVAs, a rather unsuccessful manga, and even a videogame.
The audio dramas follow the growing dissension in Heaven as the god Zeus creates a ranking system among angels, causing competition and jealousy in the formerly paradisic realm. The position of Saint Beast is widely coveted as it will go to the six highest-ranked angels, who end up being of course, our heroes. Judas, the de facto leader of the group, is particularly troubled by this promotion due to the unrest it has caused and because Zeus sends the six-some on increasingly morally ambiguous missions which they are to follow without question. The anime Saint Beast: Kouin Jojishi Tenshi Tan, commonly referred to as the prequel series, follows this material up until Judas' and Luca's decision to oppose Zeus for his growing tyranny.
Skipping large amounts of time and plot, we come to the first-produced anime Saint Beast: Seijuu Kourin Hen. In the intervening time the other four Saint Beasts had turned on Judas and Luca in the war against Zeus. Without their backing, Judas and Luca lost and were banished to hell. The anime picks up with them breaking out of hell, now with a vengeance, and beginning to kidnap guardian angels. The disappearances attract the attention of the Goddess, and the four Saint Beasts are sent to investigate. Some fans consider this short series purely fanservice and deride the plot as contradictory to the established Canon. Either way the ongoing audio drama storyline does turn out rather differently.
The OVAs Saint Beast: Ikusen no Hiru to Yoru Hen are largely Lighter and Softer, dealing with the Saint Beasts becoming adult angels and meeting each other. They do however unveil the Start of Darkness for Zeus, Lucifer, and arguably Judas.
---
---