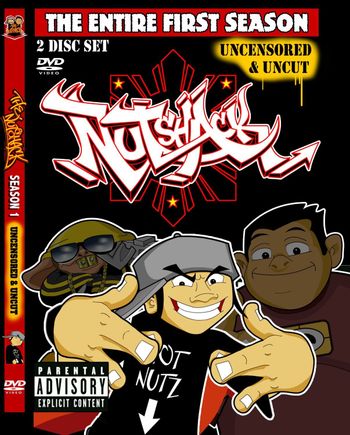 "Phil's from the 'Sco, Jack's from the P.I.
Horatio or Horat, so big-eyed!
Tito Dick, "Dickman", baby!
He raised Phil and loves the ladies.
Jack's cool as lazy, he's still learnin'.
And the ripe Cherry Pie, still a virgin!
Chita, meet the freak of the week-ah!
Phil's homegirl, God, Jack wanna keep her.
But it's not happenin', neither!
Shakin' like a seizure.
Hold up, lemme spark this, take a breather.
Breathe the reefer in my lungs.
I got grapes, what you watchin', son?!
"
The Nutshack is a Filipino-American animated television series created by Jesse Hernandez and Ramon Lopez, and the first animated television series aimed at a Filipino-American audience. Airing on Myx TV in the United States and Myx in the Philippines, the series lasted two seasons with sixteen episodes in total, airing during 2007 and 2011 (each year for each season). The series follows Filipino-American San Francisco native Phil, whose cousin Jack flies in from the Philippines to live with him and their Tito (Uncle) Dick in the Tenderloin district of the city.
The entire series is available to watch on Myx's official YouTube channel
(though it's region-locked in the Philippines). Deleted scenes and other promotional content can be found on the show's official YouTube channel
(which is not region-locked in the Philippines).
---
The Nutshack provides examples of:
---