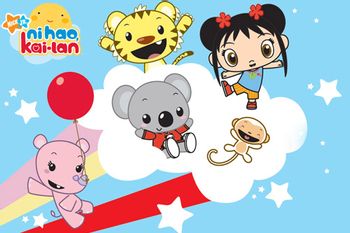 "You make my heart feel super happy! Ni rang wo hao kai xin (你让我好开心)!"
Ni Hao Kai-lan (2007-2011) is a preschool Edutainment Show that aired on Nickelodeon, adapted from a 2004 series of Nick Jr. interstitials called Downward Doghouse. The show's primary function is to teach children Mandarin Chinese. According to the show's website, it also "teaches children how to identify and cope with their feelings."
The show chronicles the adventures of Kai-lan, a young Chinese-American girl, and her various friends and family:
Ye-Ye is Kai-lan's grandfather, the only parental figure on the show.
Rintoo is a small tiger with a slight lisp who tries everything with reckless abandon. He proclaims everything as "awethome!", and often gets into trouble with his headstrong nature.
Hoho, a three-year-old monkey who likes to play around, and is a fan of the Monkey King.
Tolee, a koala with an unhealthy obsession with pandas.
Lulu, a pink rhinoceros who flies via a balloon tied to her horn.
Mr. Sun is the sun, who smiles and shines all the time. He sometimes releases "sun fuzzies" that can tickle or form props.
It basically comes off as a cute, albeit somewhat trippy kid's show.
While perhaps never formally canceled, the show ceased production in 2010. The program currently only airs in the evenings on the Nick Jr. sub-network, having apparently never quite caught the fire that Dora the Explorer did. It got a Licensed Game that was a crossover with Dora the Explorer called Dora and Kai-Lan's Pet Shelter Fun wherein you helped Dora, Kai-Lan, Diego and Yeye take care of pets at a pet shelter.
---
This show contains examples of the following tropes:
---