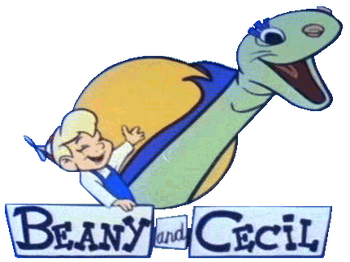 A classic television cartoon series produced and directed by former Looney Tunes director Bob Clampett, Beany and Cecil covers the escapades of an adventurous boy named Beany, and his friend, a sea-sick serpent named Cecil, as they get into all sorts of trouble across the world with Beany's treasure-hunting Uncle Huffenpuff and their enemy, Dishonest John.
The show was relatively short lived (only 26 episodes on ABC, all broadcast in 1962) but has gained a healthy cult following over the years. The Clampett family has also released the entire series on two DVD collections, packed with plenty of supplementary material, including an ultra-rare short Clampett made for Republic Pictures!
Beany and Cecil also has one other quirk which almost never happens in media. The listed copyright owner of the cartoons was not some corporate entity or animation company, but Bob Clampett personally. Individuals almost never get to own the rights to their creations because they're employees and thus it's a work for hire or they often incorporate their own company and have it own their work for tax reasons.
A revival of the series was attempted in the late 1980s by Bob's family and John Kricfalusi, but promptly crumbled following creative differences between Kricfalusi and the editors. The series was quickly cancelled after only 5 episodes had aired.
Recently, the Clampett family has set up a new website
for the series, as well as a Youtube Channel
and Facebook page
. They are also releasing an updated version of the first DVD collection.
---
Tropes This Series Uses:
Totem Pole Trench: In "Beany and the Boo Birds", the titular Boo Birds disguise themselves as Cecil's conscious by standing on top of each other and hiding in a hand puppet resembling Cecil with wings and a halo.
World of Pun: Wordplay is absolutely everywhere in this show.
Your Size May Vary: How big Cecil is in relation to Beany varies quite a bit, sometimes within the same cartoon.
---