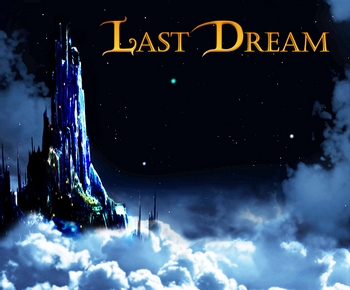 Last Dream
is a 2014 role-playing game developed by White Giant RPG Studios in the
RPG Maker
VX engine, which follows a group of heroes as they seek to save the world from an impending dark force.
The game begins with a man who is sucked into a interdimensional portal after he momentarily leaves his family at the beach to collect firewood. The man is thrown into the world of Terra, an expansive world made up of several continents, and is rescued by a local villager named Dante, who brings him back to his home and begins to train him. One year later, the man is told by Dante that his daughter has been kidnapped, revealing a plot by an evil entity called the Dark Lord who seeks to control the world and subjugate the residents.
With the help of three other heroes, the father sets out to rescue Terra from the Dark Lord's clutches, as well as take part in a resistance movement, obtain four crystals that are the key to stopping the Dark Lord's plans and more on the way to the climactic confrontation at the mythical Well of Souls...
Developed in part as a throwback to early-90s RPGs, the game bills itself as an "ode to Final Fantasy", and features multiple references and shout-outs to various RPG franchises. The game also includes many different paths of exploration and a wide assortment of sidequests.
A standalone expansion called Last Dream: World Unknown was released in 2017, with a sequel titled Last Dream II currently in development. The game is available on Steam
.
---
The game provides examples of:
---