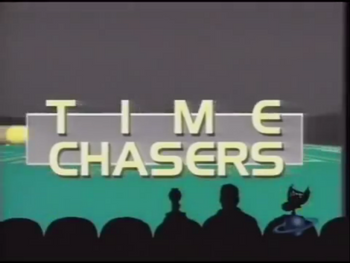 Movie watched: Time Chasers
The Segments:
Prologue
Mike recaps the previous episodes up to now, explaining that the SOL and Widowmaker have left Ancient Rome and are now back in the wormhole from before. Servo then prods Mike into admitting that they're "Lost in Space," at which point Servo and Crow to launch into their best impressions of the Robot (misidentified by the characters as Robbie the Robot) and Dr. Smith, respectively.
Segment 1
As the Bots continue to be Dr. Smith and the Robot, Mike attempts to park the SOL, but collides with the Widowmaker. He checks out the damage, and then has a neighborly talk with Pearl.
Segment 2
Servo suggests that Crow go back in time and prevent Mike from being shot into space. Crow succeeds in traveling back to 1985 Wisconsin, where he finds Mike is a loser working at a cheese factory. He tries to persuade Mike against working a string of low-paying temp jobs, but young Mike is unconvinced, and Commercial Sign doesn't help either.
Segment 3
Back in 1985, Crow succeeds in turning young Mike's life around by convincing him to focus on his rock band. Crow returns to the present day. He finds a horrifying new timeline, where Mike died on-stage just as his band was on the cusp of rock stardom; where Mike's rude and crude older brother, Eddie, was sent to the SOL in Mike's place; and where Servo is Eddie's fearful yes-man.
Segment 4
Fed up with Eddie, Crow goes back to 1985 to prevent himself from disturbing the timeline. Young Mike continues the string of low-paying temp jobs that eventually gets him shot into space, and all is well.
Segment 5
Crow, dressed as Gilligan, tries to make Mike say "Gilligan's Island," with Servo standing by to give his best Skipper impersonation, but Mike doesn't fall for it. Instead, he steps out to have another chat with Pearl. The two talk about Crow's time travel, and eventually realize that there must be a second Crow still stuck back in 1985. Sure enough, back in 1985, Crow's time travel clone is now working at the cheese factory. The factory TV plays over the credits.
---
---
---