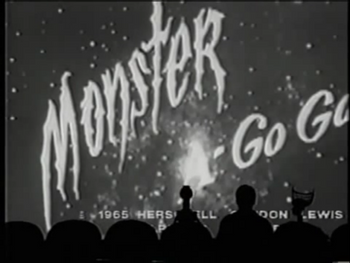 "I recall this episode as being the first time we decided explicitly to write sketches having nothing to do with the movie. Really, we had no choice. (...A)ny topic that is about something (that is, any topic that exhibits "topicness") cannot, by definition, have anything to do with this movie."
Films watched: Circus on Ice (short) and Monster a-Go Go
Best Brains regards Monster a Go-Go as one of the worst movies they ever riffed on. It even gets an aside reference in their treatment of Manos: The Hands of Fate, implying that as bad as that movie was, this one might still be even worse.
Circus on Ice is a short about the 40th Annual Carnival of the Toronto Skating Club.
The episode is available on Shout! Factory TV here
.
The Segments:
Prologue
The Bots open a cheese making operation on the bridge.
Segment 1
For this invention exchange, the winner gets to watch the movie of their choice. If the Bots win, Local Hero; if they don't, Monster a-Go Go. The Mads present Johnny Longtorso, an action figure with all parts sold separately. The Bots show off their line of non-violent action figures: Action Oxford (Edward de Vere), a tapeworm and athlete Wilma Rudolph. Since Frank is the judge, the Bots lose and have to watch Monster A-Go Go
Segment 2
Gypsy tells Crow she doesn't "get" him, but Crow can't figure out what she means by that. Gypsy can't quite explain it either, even after several attempts at clarification where Crow lists some of his more bizarre tendencies and qualities. Eventually Crow gets annoyed, and leaves. Servo enters a few seconds later. Gypsy tells Servo she doesn't get him; he responds with "Nobody does; I'm the wind, baby!"
Segment 3
Joel and Servo play keep-away with Crow. He soon catches the ball, but Joel and Servo continue playing with another ball. Crow keeps the ball for a little while in the theater.
Segment 4
Crow and Servo ask Joel about the "Piña Colada Song" and the ensuing problems.
Segment 5
After the conclusion of the film, Joel tries to cheer up Servo and Crow by dubbing them a happy king and his jester, Sir Giggles von Laughsalot. They break down, but soon feel better after thinking of a good thing about the movie.
---
This episode contains examples of:
---
---