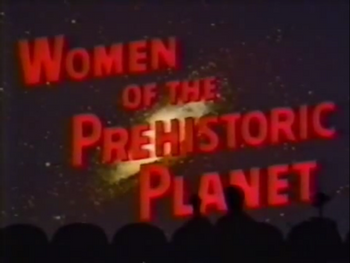 Dr. Forrester: Your film this week is a little number called Women of the Prehistoric Planet. There's really no reason for it, it just is what it is. Deal with it, musky breath!
Dr. Erhardt: Enjoy!
Film watched: Women of the Prehistoric Planet.
Although its production number places it as the fourth episode of season 1, it was the last episode to be produced and aired for the season.
The last episode with J. Elvis Weinstein, but also the first with writer and future host Mike Nelson in an acting role.
The Segments:
Prologue
Joel, on a couch, introduces himself and the plot. He shows off Crow's brownies, and refers to him and Servo as his guests for his talk show.
Segment 1
The Mads show their new venture, Clay and Lar's Flesh Barn. Joel, having an off day, presents a roll of toilet paper inside a 2 liter soda bottle.
Segment 2
Servo tries doing "This Is Your Life" with Joel, but gets interrupted by a stray doomsday device going towards the Satellite. Joel brings device into the bridge, but engages its self destruct sequence.
Segment 3
Joel tries to disarm the device, which turns out to be a "literary doomsday device" made by Isaac Asimov. He attempts reading the instructional manual to the device, but it looks like it's from the Engrish edition.
Segment 4
The doomsday device continues to get dismantled by Joel while Crow and Servo get philosophical on him. The device, having its wires cut, begins its countdown. The three try to stop the device with a password, but that just makes the device work faster; turning the three into Isaac Asimovs. They continue to be Asimovs in the theater.
Segment 5
Joel, Servo and Crow take off their Asimov forms, and read some letters. Joel reads the letter from the winner of the Avocado boy alternate name contest. He also reads some more; one letter is from a man who found meaning from the show, another is from a father and daughter asking for more information about the MST3K Fan Club. Dr. Erhardt files out the experiment by strumming his guitar to Dr. Forrester.
---
This episode provides examples of:
---