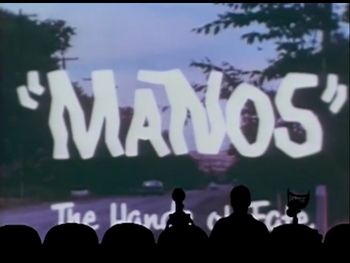 Films watched: Hired! (Part 2) and Manos: The Hands of Fate
When the crew at Best Brains discovered Manos, they thought about not riffing the film at first, as the crew considered the film too strange. Eventually, the group decided to go through with it under the idea that they must expose the world to Manos. It has since become one of the show's most famous episodes.
The episode is available in the Gizmoplex here
, and on Shout! Factory here
.
The Segments:
Prologue
Joel reprogrammed the Bots to praise him all the time. He soon has second thoughts after feeling hollow from the compliments.
Segment 1
The Bots return to their normal selves after some adjustments. The Mads present the Chocolate Bunny Guillotine, with Frank as the executioner. Joel meanwhile presents the Cartuner, a device that merges bland comics into funnier gestalts.
Segment 2
Joel attempts a driving sketch with Gypsy, Crow and Servo. Despite tears and suffering, the two bots try to continue performing, but their unprofessionalism causes Gypsy to walk off. Frank calls up to apologize for the film, but is greeted by a disgusted Joel.
Segment 3
Influenced by Torgo's thighs, Joel and the Bots speculate on their own exaggerated features.
Segment 4
Joel comes up to the bridge dressed as the Master. Servo criticizes his costume and Crow, dressed as a hellhound, joins in. Dr. Forrester also calls the SOL apologizing for the film.
Segment 5
The Bots attempt to cheer Joel up by reenacting the lingerie brawl from Manos. The Mads get their pizza from Torgo's Pizza, with horrible results.
---
The Mystery Science Theater 3000 presentation of Hired (Part 2) contains examples of the following tropes:
Captain Obvious:

Mr. Warren: Sales are the most important part of this business.

Servo: Seeing as how we're salesmen and all.

Cloudcuckoolander: Mr. Warren's father is treated as a combination of drunk, senile, and just plain deranged.

Servo: (after the first time Mr. Warren's father swats at some (unseen) gnats) He's having an episode!

Joel: (after the second time Mr. Warren's father swats at some gnats) Ah! Flying elves are back!
---
The Mystery Science Theater 3000 presentation of Manos contains examples of the following tropes:
---
---