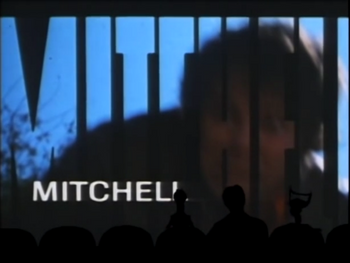 Film watched: Mitchell
On October 23, 1993, the edited-for-television release of Mitchell was featured as an episode of Mystery Science Theater 3000. Particularly mocked were Mitchell's alcoholism, slovenliness and uncouth behavior.
According to the Amazing Colossal Episode Guide, actor Joe Don Baker was very angry at the MST3K treatment of Mitchell, and threatened physical violence on any of the cast or crew should he ever meet them in person. This did not stop them from later featuring (and happily mocking) another of Baker's films, Final Justice, and hurling even more vicious insults at Baker. Kevin Murphy, who played MST3K's robot commentator Tom Servo and was one of the show's head writers, later said that Baker likely meant it in a joking manner. Mike Nelson felt that Baker was less annoyed by the episode than being repeatedly asked about it, and that his "threat" was more of an attempt to discourage reporters than directed at Best Brains themselves.
Joel Hodgson, however, said at one of his "Riffing Myself" stage shows that Joe Don Baker was approached by Shout! Factory for an interview for their DVD release of the Mitchell episode, and Baker explained that he disliked MST3K for using his real name in their jokes, instead of his character name, making the jokes seem more personal and direct. Until Baker himself goes on the record, MSTies can decide for themselves which version they find is most plausible.
This episode is notable for being the final regular episode to star series creator Joel Hodgson, as well as the introduction of his replacement Mike Nelson (who had been the head writer since Season 2, and previously appeared on-screen as characters like Torgo).
The episode is available on the MST3K YouTube page here
and Shout! Factory TV here
.
---
The Segments:
Prologue
Joel built a toothpick Monticello which Crow and Servo want to destroy. He tells the two Bots that they can destroy it, but they leave it alone, Servo saying it ruins the fun. It seems that the model is safe, but by Commercial Sign, Crow and Servo are at it.
Segment 1
Joel shows off his Daktari stool. The Mads don't have an invention this time, but have a new temp employee, Mike Nelson, helping them with their audit by the Fraternal Order of Mad Science.
Segment 2
Joel leads Crow and Servo on a hike off to the SOL's refuse trench for them to field strip and reassemble themselves. Gypsy stays behind on the bridge. She answers a transmission by the Mads, in which the two plan to murder Mike, but Gypsy concludes that Joel is their target.
Segment 3
Gypsy tells Joel about the impending murder and the plans to escape, but he reassures her that he's not going anywhere. She then tries to gain the help of Crow and Servo, though the two arrive on pogo sticks singing TV theme songs. Nevertheless, Gypsy soldiers on.
Segment 4
Gypsy enlists Mike's help in her plan. He provides the location of an escape pod "Deus ex Machina", which is inside a box of hamdingers. Mike then initiates the escape sequence on the Deep 13 computer, after conquering the obstacle that was the command line interface (and tricking Frank into giving him the keys).
Segment 5
Gypsy initiates the escape sequence while Joel tries to read a letter. He soon drops down from the bridge to the pod. Transmitting from there, Joel tells the Bots that they learned as much they could about Earth, and presents his remembrance plaque. After the Bots disagree with his choice of quote, Joel contacts them one last time, saying goodbyes. Back in Deep 13, the escape freaks Dr. Forrester out due to Joel's escape meaning that they'll have trouble finding a replacement, but Mike soon shows up with his time card. Dr. F signs Mike's time card, and asks him what size jumpsuit he wears.
---
---
"He's such a super dude, the American dream, like the guys on the movie screen."
Joel: Mitchell!
—Joel's last line in the theater
---
Dr. Forrester: Of course I'll sign your time card, young man— In fact, I think you're going to be working for me for a long, long time. Push the button, Frank...
* Frank pushes the button.
Dr. Forrester: Say, Mike, what size jumpsuit do you wear?
Mike: Uhm...
---
---