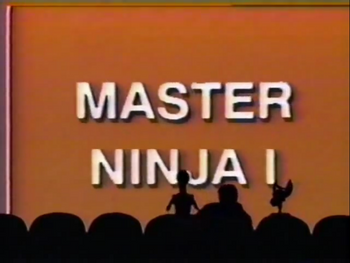 Film watched: Master Ninja
MST3K writer Paul Chaplin noted in the Amazing Colossal Episode Guide:
"All told, we covered four hour-long episodes of this show. Of those, two plots involve small towns in America's heartland ruled by vicious, murderous industrialists working hand in hand with El Salvador-style police. Understand, I too have misgivings about unfettered capitalism. I'm just not sure this kind of thing exists. I think it's Hollywood's idea of the Midwest. I may be wrong. If any of our viewers know of places where shopping-mall developers routinely kill until their semi-secret graveyards are filled to bursting, I'd like to hear about it. If you yourself live in a town like that, for God's sake let us know! Maybe MST can help."
It is available on Shout! Factory TV here
.
The Segments:
Prologue
Crow shows off his muscle car to everyone else.
Segment 1
Segment 2
Crow tells Joel and Servo his conspiracy theory on the van Pattens and their evil plan to take over the entertainment industry by getting cast in movies and TV.
Segment 3
Servo and Crow fight as ninjas, but Joel jumps into the fray as a typical American. Gypsy also joins as... Gigi.
Segment 4
Joel shows of his line of gag nunchaku, which leads to a contest for more ideas.
Segment 5
The Bots start singing the "Master Ninja Theme Song" while Joel reads a letter from the USS Missouri, thanking them for the entertainment during the Gulf War. Frank soon smothers Dr. Forrester. The "Master Ninja Theme Song" continues to the credits.
---
This episode contained the following tropes:
---
---
"...MASTER NINJA THEME SONG!"
— Joel Robinson