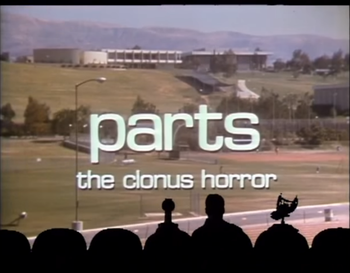 Film watched: Clonus aka parts: the clonus horror
Reportedly, director Robert Fiveson wasn't too thrilled about getting MSTed until he saw the riffing of the scene where smoke seems to be emanating from Richard's nether regions as he shares a post-coital campfire cuddle with Lena:
Mike: (as Richard) I should go a little easier next time!
Tom: Only you can prevent groin fires.
Crow: She really was on top of Old Smokey, huh?
He was also very thankful when he was alerted by MSTies that The Island was a ripoff of his film, which resulted in a very generous out-of-court settlement.
The Segments:
Prologue
Mike has decided to grow out a mustache. The 'Bots try to support him, but it soon turns to mockery.
Segment 1
Mike debates shaving his mustache, while Pearl, Bobo, and Brain Guy find their camping site intruded upon by Space Children. They're lost, hungry, and incredibly omnipotent, and they've named Pearl their new grandmother... and they will not take "No" for her answer.
Segment 2
The Mads are stuck playing Candy Land and Catch with the Space Children, and it's not going very well for any of them as their patience and pain tolerance is constantly tested by their omnipotent temper tantrums.
Segment 3
Pearl begs the crew to provide some kind of entertainment for the Space Children. Mike and the 'Bots put on a public TV children's show, which goes over well enough with the audience until they start getting bilingual.
Segment 4
The Mads give "The Talk" to the Space Children.
Segment 5
Crow shows off his new nose job. The Mads have finally gotten the Space Children down for the night, and Servo offers a beautiful poem to soothe them to sleep. The marching music he accompanies it to has the opposite effect.
---
---