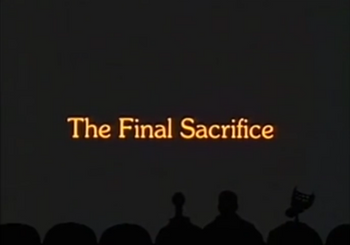 "You know what? You lose me straight away when your movie's protagonist is named 'Zap Rowsdower'. The second I hear him identified as 'Zap Rowsdower' I am squeezing past you and climbing over your legs and muttering 'excuse me' and I am getting the hell out of the movie. Only this time I couldn't because I was at work and I'm hourly and I had used up all my vacation and sick time. How about Plink Holmgren? Or Pow Flowhauer?"
— Mary Jo Pehl, The Amazing Colossal MST3K Guide
Film watched: The Final Sacrifice
The Segments:
Prologue
While Gypsy works on the SOL's power, Crow and Servo take the blackout as a time to loot. Their spoils are underwhelming though.
Segment 1
Pearl starts her campaign of world domination by going at it one person at a time, but runs into a few roadblocks along the way— the first person she asks to rule over has impenetrable defenses (he tells her "no") while the second person she asks is Servo.
Segment 2
Mountie Servo sings a tribute to Canada as response to the Canada-bashing, which Crow and Mike ruin with their own improvised lyrics. They encourage Servo to lighten up and join in the bashing, but he takes it entirely too far and ends up having a breakdown over being a "disgrace to my uniform".
Segment 3
Castle Forrester and the SOL are infected with hockey hair, leaving Bobo bedridden, the Bots annoyed, and Mike unaffected since he'd already had a case of hockey hair in his youth. Brain Guy, meanwhile, finds his new hairstyle an improvement.
Segment 4
The Bots decide to let the hockey hair as it is, only to find Mike inflicted with Grizzled Old Prospector syndrome. He gets better after Commercial Sign.
Segment 5
Crow and Servo start up their own cult and invite Mike for baking and watching TV dramas, to his horror. Pearl is successful getting a new approach in personal domination, only to be usurped by Travelers, Inc.
---
---
---