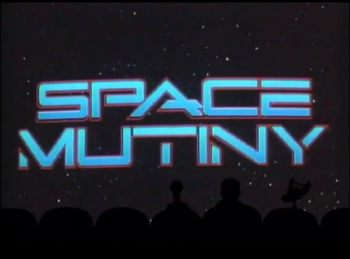 Film watched: Space Mutiny
"I have never seen the show. What people do not seem to understand is that the movie was meant to be a spoof on sci-fi films."
— Cisse Cameron, aka Lea
This movie landed almost perfectly in that sweet spot for MSTing material: flawed enough to provide hours of enjoyable riffing, but not a completely unwatchable trainwreck, resulting in one of the most popular episodes. In fact, the Onion AV Club selected this episode
for their "Gateways to Geekery" feature as an ideal entry point for newcomers. Mike Nelson and the 'bots had a great time pointing out some cast members' resemblance to certain celebrities, as well as the obvious fact that the actress playing Lea is much older than her character is meant to be (they refer to her as Jansen's "Grandma-daughter").
The copious number of Railing Kills nearly becomes a Drinking Game (and inspires Tom to fill the 'Satellite of Love' with pits and railings), and they also make up numerous fake bodybuilder names for the muscular hero Dave Ryder including Slab Bulkhead, Fridge Largemeat, Bolt van der Huge, Big McLargeHuge, Blast Hardcheese, Smoke Manmuscle, Punch Rockgroin, Roll Fizzlebeef, and Bob Johnson. Kalgan's frequent maniacal laughter is also a source of entertainment, as is the beefy protagonist's oddly screechy battle shouts. Kalgan's red-armored bodyguard ("Lobster Boy") and the death and miraculous "resurrection" of Lt. Lemont round out the riff targets. The only thing Mike and the Bots don't lampshade is the fact that every single "space" shot in the film is simply a clip from Battlestar Galactica, evidently because they didn't know this was the case at the time of filming. They were also unaware that the film was made in South Africa during The Apartheid Era; at one point, Servo jokes that it looks like a Canadian production.
Space Mutiny was released as part of Vol. 4 of the DVD collections by Rhino Entertainment, and was re-released by its successor, Shout! Factory. It is also available through Shout! Factory TV here.
The episode is available in the Gizmoplex here
.
The Segments:
Prologue
Crow and Servo complain about outdated encyclopedias that Mike gave to them.
Segment 1
Mike gets the two bots new encyclopedias, they still complain though. Pearl, with Bobo and Brain Guy, are still in Roman prison. She asks Mike to help them escape; in exchange, today's movie would be the last one shown to the SOL. She then asks Brain Guy to bring Mike down, but gets mixed results.
Segment 2
The Bots engage in a dogfight outside the SOL while Mike tries to relax with tea and music.
Segment 3
Crow announces to Mike that he is a Ballerian, because he is. Meanwhile, at the Roman prison, Bobo tells Pearl he has the key to the locks. Problem is, it's inside him.
Segment 4
Influenced by the movie, Servo install railings on the SOL. This inconveniences Crow and Mike.
Segment 5
The Bots shows their muscles to Mike: Crow has a tiny bicep, while Servo bulks up into bodybuilder shape after doing just one leg press. At the Roman prison, the three escape with the help of Brain Guy's brain, and Mike attempting to hit on Flavia. Bobo steals a cheese wheel, but knocks over an adjacent candle.
---
---
---