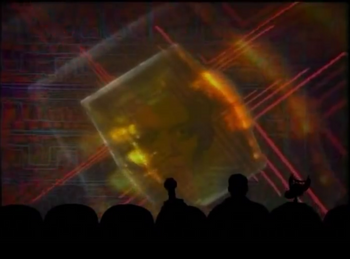 Film watched: Overdrawn at the Memory Bank
The Brains were a bit leery about riffing this film, due to Raúl Juliá's tragic death three years earlier being very much on their minds. Nevertheless, they did the episode anyway due to the film's low budget and incoherent Technobabble while managing to avoid any personal attacks on Juliá.
The Segments:
Prologue
Crow has boxes of T-shirts with his classic catchphrase "You Know You Want Me, Baby!" around the bridge, which confuses Mike.
Segment 1
Mike tries his hand at catchphrases, but all his choices are lame. Pearl starts Public Pearl TV as a way to suck money from gullible liberal donors. Servo is convinced and calls for the free tote bag from Public Pearl. "The Nature of Bobo" is played, with Brain Guy running commentary while Bobo eats.
Segment 2
Crow and Servo get a monkey, which they named Henry Kissinger, from "instant monkeys online". Henry, loose on the SOL, throws stuff on Mike's "threatening" stances. He calls Henry down, but the two Bots ditch Mike by Commercial Sign, leading to more thrown stuff.
Segment 3
Mike still has stuff thrown from Henry. Meanwhile, Public Pearl previews its new special, "Pearl! Pearl! Pearl! Pearl! Pearl!" She sings "When Loving Lovers Love" with Brain Guy.
Segment 4
Servo dopples himself into the Nanite world, but ends up in a bad part of town. Nano-Servo then gets beat up by two Nanite mooks.
Segment 5
Bobo is brought aboard to help with Henry's throwing problems. Mike then uses a blowgun on the simians, much to Crow and Servo's objections. The Public Pearl TV scam is successful for Pearl, with her rolling in the dough.
---
---
---