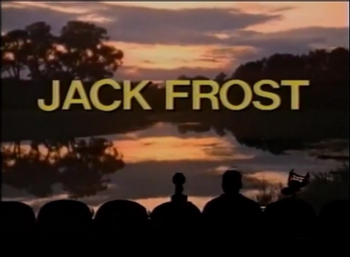 Film watched: Morozko aka Jack Frost
The last of the four Russo-Finnish films featured on the show. This is notable for being the Trope Namer for The Freelance Shame Squad, coined by Crow to describe a group of villagers in the movie who always show up in time to laugh at wicked stepsister Marfushka.
The Segments:
Prologue
Mike, as Lord of the Dance, performs alongside with Crow and Servo to an audience of Gypsy.
Segment 1
Bobo and Brain Guy contact the SOL, as Pearl's dropping off the Space Children. The two disagree on who is the leader and the list of tasks Pearl left, which leads Mike brought down as mediator. He tricks Brain Guy into taking his place in today's experiment, but sees through it by Movie Sign.
Segment 2
Crow brings in Yakov Smirnoff to help them on today's movie, but he's no expert.
Segment 3
Crow announces to Mike and Servo that he's a bear. Meanwhile, Bobo and Brian Guy bond with each other by complaining about Pearl. Crow keeps being a bear in the theater, but changes back.
Segment 4
Crow hires a better expert for the film than Yakov Smirnoff, Earl Torgeson, after several associations between him and Rocky IV, but he's no help.
Segment 5
Servo is "adowable and pwecious", which confuses Mike and Crow. Over beer, Bobo and Brain Guy drunkenly argue about the best ape movie, forcing Mike to come down to the planet to pick. Pearl returns and ends the argument.
---
The MST3K presentation contains examples of:
---
---