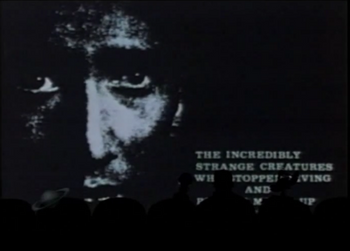 Film watched: The Incredibly Strange Creatures Who Stopped Living and Became Mixed-Up Zombies
This episode is often credited as the Trope Namer for "Nightmare Fuel," when Mike Nelson quips upon seeing a bizarre laughing clown, "Ah, good old-fashioned nightmare fuel!" Too bad "Santa Claus" beat it to the punch...
The Segments:
Prologue
It's walk-a-thon season on the Satellite, with Crow walking for Walkathon (that is to say, W.A.L.K.A.T.H.O.N.) and Servo for Helping Children Through Research And Development (which is actually, you guessed it, H.E.L.P.I.N.G.C.H.I.L.D.R.E.N.T.H.R.O.U.G.H.R.E.S.E.A.R.C.H.A.N.D.D.E.V.E.L.O.P.M.E.N.T.).
Segment 1
Mike receives a H.E.L.P.I.N.G.C.H.I.L.D.R.E.N.T.H.R.O.U.G.H.R.E.S.E.A.R.C.H.A.N.D.D.E.V.E.L.O.P.M.E.N.T. shirt. Pearl is trying to drop off the Space Children at their home planet, while Brain Guy and Bobo butt heads trying to send today's experiment.
Segment 2
Crow and Servo read Mike's aura as a scam, but he isn't fooled. He gives them 50 cents for their trouble.
Segment 3
Inspired by the movie, Crow and Servo get beehive hairdos and convince Mike to get one too. He asks for Shelly the Nanite at the Bots' recommendation, but she ends up giving him a hairstyle that goes up 70 miles outside the Satellite. He keeps the haircut for a while in the theater before realizing to his annoyance that it's merely taped onto his head.
Segment 4
Crow hires a catering service run by Ortega, much to Mike's disgust. He wows the Bots with his meals, but Mike's constant jabs at his personal hygiene leads to him splashing acid on himself.
Segment 5
Servo and Crow show off their coaster, "The Screaming Lemur," to Mike. The ride itself is broken, incomplete and unsafe—something the Bots refuse to acknowledge until after Mike takes his first (and last) ride. Pearl drops off the Space Children to their parents and is briefly moved at how much they loved her. She then brushes it off to go gamble.
---
The MST3K presentation provides examples of:
---
---