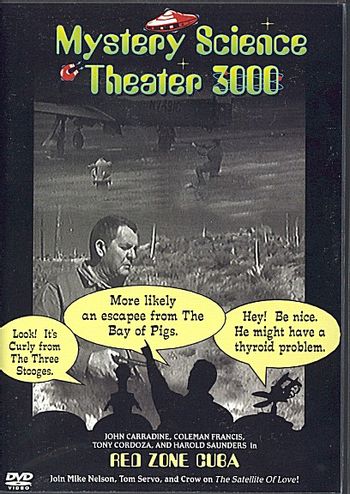 Tom Servo:
Well, I see the movie has finally thrown up its hands and said "I just don't know."
Crow:
I wanna hurt this movie, but I can never hurt it the way it hurt me.
Mike Nelson:
Did they even need to GO to Cuba?
Film watched: Red Zone Cuba, with short Speech: Platform Posture and Appearance
One of the few films that actually broke the SOL crew, though the Mads didn't notice due to Forrester having been beaten to a pulp by mobsters before the movie began — and Forrester too busy beating Frank to even notice their "Bouncy Upbeat Song". Sanity Slippage was the only thing saving them from the Despair Event Horizon. Even the Mads descended into madness at the end.
The Segments:
Prologue
It's time for the Satellite of Love Lotto! As in "lotto" numbered balls to read off of. One of the numbers read off is "509", and with over two dozen balls drawn indicating winning is improbable.
Segment 1
As Mike and the 'Bots prepare for a thrilling high-stakes game of Bingo, TV's Frank is visited by the mob for a matter of "fifty large" and has Dr. Forrester answer the door. One painful beating later, Dr. F is bodycasted and bedridden.
Segment 2
Mike and the 'Bots continue their wealthy ribald while Frank consoles Dr. F over his injuries... and then helps with his horrible posture.
Segment 3
Mike is starting to lose it from the movie and thinks he's Carol Channing. Dr. Forrester is sent cards and flowers from many famous people who eagerly wait for his expiration.
Segment 4
Poor Mike is slipping further and can't even figure out which celebrity he's impersonating. Faced with his impending end, Dr. F struggles to find the strength to live and eventually does... and then the mob comes back for a second round on him.
Segment 5
Mike and the 'Bots recover from the trauma of the movie they watched with a "bouncy upbeat song" of questionable lyrics. Dr. F makes a full recovery, too, though Frank may find himself in a bodycast next as his boss "thanks" him.
---
The MST3K presentation contains:
---
---