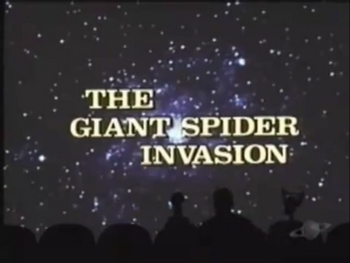 Film watched: The Giant Spider Invasion
Mike Nelson and Kevin Murphy hosted a Bill Rebane Film Festival in 2005 mentioning that, while The Giant Spider Invasion is not a good movie, they can admire the director's ability to get it made.
During the crowd scenes in the MST3K version, Mike and the Bots cheer "Packers won the Super Bowl! WHOOOO!!" This led to a resurgence of interest in the episode among fans in 2011 when the Green Bay Packers beat The Pittsburgh Steelers in Super Bowl XLV.
The episode is included in the show's DVD box sets 10/10.2. It is also available in the Gizmoplex here
.
The Segments:
Prologue
Cheerleader Servo tries to show some team spirit but, rather than giving Servo an S, A, T, E, L, L, I, T, or E, Mike and Crow are only willing to give him MRxL.
Segment 1
Pearl, Brain Guy and Bobo enjoy a break from interstellar travel by camping in the woods. She shows off some strange zucchini, and become hypnotized with Brain Guy. They soon send the Satellite the zucchini throw pillows and today's quality experiment.
Segment 2
Mike, Crow and Servo find Gypsy hypnotized from the zucchini throw pillows, and she tries to assimilate the three through warm milk.
Segment 3
Mike and Servo stay awake from being assimilated through coffee. Crow, meanwhile, stays awake through a cocktail of high caffeine content. On the Mads' side, Bobo remains unassimilated while Pearl and Brain Guy load the Widowmaker with more zucchini throw pillows. He tries to take one of the zucchini away, but the two rope Bobo up. Crow still remains frazzled in the theater, but eventually calms down.
Segment 4
Servo freaks out over a clone of himself made by the zucchini. He proves he's the real Servo by rattling off the contents of his underwear collection.
Segment 5
With the Bots affected, Mike and Bobo remain the only unassimilated. Mike urges and inspires Bobo to find the Mother Pod, whom he defeats without any difficulty. Because the original Pearl was absent for most of the experiment, she tells Brain Guy to send the movie again, much to Mike and the Bots' horror.
---
The MST3K treatment provides examples of:
---
VaaaaaaaaAAAAAAAAAAaaaaNCE!
---
---