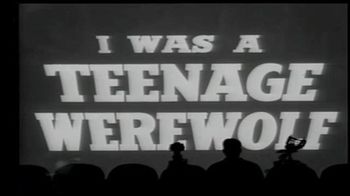 Film watched: I Was a Teenage Werewolf
The Segments:
Prologue
Servo accuses Mike of being unfit to command the Satellite of Love, but since all the 'Bots (including Servo) have their excuses as to why they can't replace him, he keeps his position by default.
Segment 1
Down on the mysterious planet, Pearl prepares to set up camp. Bobo is tasked to carry all the heavy gear and Brain Guy is assigned her makeup pack to transport. She also has the SOL's systems almost completely shut down, and an alien lifeform latches onto Servo's face when he goes to investigate a hull breach.
Segment 2
Crow orders a proximity sensor to track the SOL's invader. Everybody panics when he reports alien lifeforms surrounding them on all sides, but then Crow finds out that it's only detecting the humidity.
Segment 3
Servo gets rid of the alien on his face and arms himself with guns and grenades to take on the big one in the vents. Mike and Crow take bets on how long it takes before Servo breaks down crying.
Segment 4
The crew returns to find alien eggs gestating on the bridge. There's only one thing to do to get rid of them: make giant omelets!
Segment 5
The alien is on the SOL's hull and siphoning its energy, so Mike resorts to the ultimate way to repulse anything... his impression of Adam Duritz. They complain to Pearl about the horrible experience, which is met with her usual inability to care as she tells scary stories to Bobo and Brain Guy.
The MST3K presentation provides examples of:
---
---