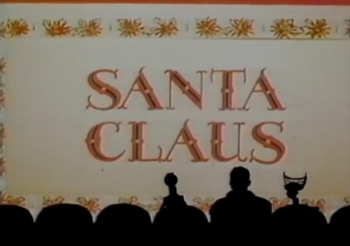 TV's Frank: It's a stupid Mexican kids' movie!
Film watched: Santa Claus (1959)
In the words of the MST3K producers: "Just when we thought it couldn't get any more bizarre, it did." Its dramatic departure from established Santa Claus legend, combined with B-movie production standards and an awkward dub provide ample source for mockery. MST3K's send-up first aired on Christmas Eve 1993 as the show's second Christmas Episode (following Santa Claus Conquers the Martians two years earlier). The devil Pitch became a recurring character for a while, played by Paul Chaplin, who notably was one of the rare ones to even appear in the Sci-Fi Channel episodes. Plus, it's the true Trope Namer for Nightmare Fuel.
The episode is available in the Gizmoplex here
.
The Segments:
Prologue
Mike and the 'Bots try their hand at caroling, but are interrupted by spilled cocoa.
Segment 1
Mike treats the 'Bots' injuries. The Mads exchange gifts: Dr. Forrester gets a watch fob, but TV's Frank gets a savings bond that matures in 2023. Back on the SoL, Crow gets a Steve Alaimo album, Servo gets the 1991 Drug IV handbook, Mike gets a Joikenote sweater and Gypsy gets a plastic candy cane full of underwear.
Segment 2
Performing as Santa Kläws, Mike, Crow and Servo play "The Warrior of Christmas". The Mads get psyched.
Segment 3
The 'Bots try to surprise Mike by setting up a video call to his family back on Earth. Unfortunately, they've called up a completely unrelated Nelson family from Green Bay.note
Segment 4
Mike, Crow and Servo sing the new multicultural holiday song, "Merry Christmas... If That's OK."
Segment 5
Mike says to the 'Bots how he misses the winter on Earth. Suddenly, it snows outside the Satellite, and Mike and the 'Bots to go outside and play. Back in Deep 13, Santa and Pitch duke it out. An instrumental version of "Merry Christmas... If That's OK" plays during the credits.
---
The Mystery Science Theater 3000 presentation has examples of:
---
---