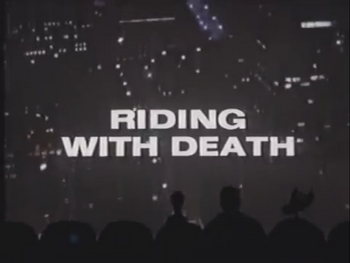 "That Abby. She's some gal!"
—Sam Casey
"I'm sending you the worst movie I know: it's called
Riding with Death
and it sucks on toast!"
—Mrs. Forrester
Film watched: Riding With Death, a TV movie compiled from two episodes of the television series Gemini Man.
The Segments
Prologue
Mike regressed back to his days as a teppanyaki chief, leading him cutting like crazy. He soon chops Crow's hand off.
Segment 1
Mike and the Bots get a call from Pearl, who is on the front lines with Bobo fighting off enemy robots. Brain Guy is also there, but as a nurse for the two. Mike supports the battle with a baking soda rocket, causing the planet to explode. As punishment, Pearl sends out today's experiment.
Segment 2
Servo performs Funky 70s song about Mt. Vesuvius and Emperor Titus. After clarification from Mike and Crow, Servo performs a song about the 50s, back when Emperor Claudius died and the apostles were there.
Segment 3
Servo announces that he become a trucker, waxing poetic about the open road, while Mike voices his disgust about Servo's new legs and butt. He continues being a trucker in the theater.
Segment 4
Crow emerges as the newest superhero on the block, Turkey Volume Guessing Man, who estimates the volume of objects in turkeys. Mike then tries his hand in turkey volume guessing, leading to Crow breaking down over his identity, but he recovers quickly.
Segment 5
Mike and the Bots halfheartedly roleplay as the cast of Riding with Death, complete with a cardboard Abby: "Give it the old college try, Sam!" Back on the Widowmaker, Pearl gets awarded for her war victories.
---
---
---