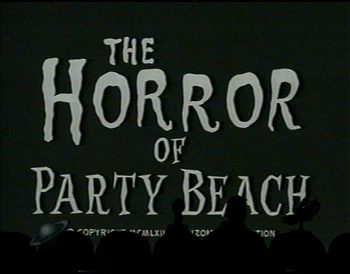 Film watched: The Horror of Party Beach.
The episode is available in the Gizmoplex here
.
The Segments
Prologue
Servo has become a Ghitu monk and is practicing his chanting while Mike tries to recap the situation.
Segment 1
Mike pulls the plug on Servo's stereo-sound enlightenment. Down on Earth in Roman Times, Pearl and Brain Guy are still in the middle of their confrontation with the Roman governor Callipygeas and his wife Flavia and are trying to pass themselves off as gods. They are skeptical until they see the Mads asking the crew for advice and accept their divinity.
Segment 2
The crew have themselves a "Manly Beach Dance". Crow and Servo immediately regret it once they see Mike in his incredibly-tiny bathing suit.
Segment 3
The Romans ask (as in demand) that the Mads play some music worthy of the gods.
Segment 4
Servo has gone into business as a paperboy. His headlines are so up-to-the-minute that Mike's every move makes the front page.
Segment 5
The crew puts on a rousing rock number to share with kids the wonders of sodium. Down on Earth, Brain Guy and Callipygeas are bonding over dinner. Pearl and Flavia, much less so.
---
The MST3K episode provides examples of:
---
---