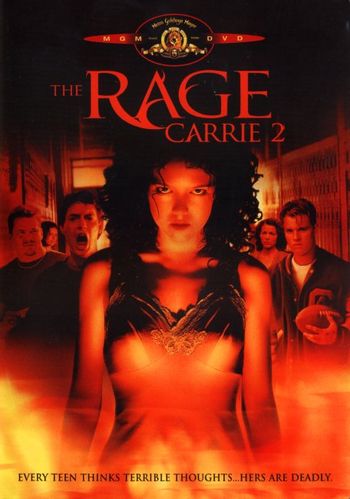 The Rage: Carrie 2 is a 1999 horror film and a direct sequel to Carrie (1976), starring Emily Bergl, Jason London, Mena Suvari, and Amy Irving.
Teen outcast Rachel Lang sees her best friend Lisa kill herself after a Jerk Jock has sex with her in order to score points in a "game" he's playing with the rest of the team. Rachel seeks revenge against the football players that caused her friend's suicide, and along the way, learns that she possesses psychic powers. She develops a crush on Jesse, one of the wiser football players, and the two enter a relationship — much to the ire of Jesse's teammates, who start plotting against Rachel. Meanwhile, school guidance counselor Sue Snell — a survivor from the original film — finds out about Rachel's powers and steps in to help her, fearing a repeat of what happened with Carrie. Everything comes to a head at the after-party for a football game, where the jocks play a tape of Rachel and Jesse having sex.
Needless to say, that party does not end well.
The Rage was part of the post-Scream (1996) wave of hip, post-modern teen horror films, and it was originally planned as a standalone film titled The Curse.
---
This movie contains examples of:
---