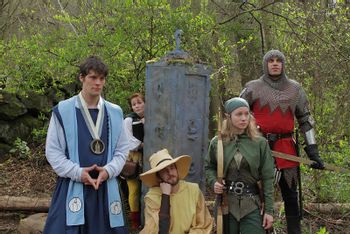 "Well, it started out as a journey and then it just kinda became this whole different 'quest'. Journey... Quest... JourneyQuest."
(
Beat
)
"Ugh, that's terrible."
— Wren (naming her epic)
JourneyQuest: A group of adventurers is sent to claim the Sword of Fighting from the Temple of All Dooms so they can defeat The Wicked Kings. Along the way they manage to slay many orcs and pick up a few followers, even if the party isn't aware they have them. Created by Zombie Orpheus Entertainment, their site is here: http://www.zombieorpheus.com/
The main party includes:
This disjointed bunch is secretly followed around by a young bard named Wren, who chronicles their misadventures.
---
JourneyQuest provides examples of:
---