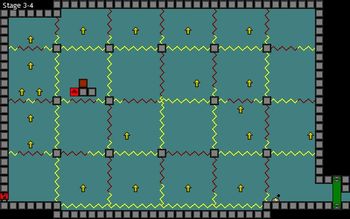 Jumper is a series of Nintendo Hard freeware platform games by Maddy Thorson. This would introduce her style of ultra challenging platforming that would be seen in most other games that she has made
.
Jumper tells the story of an escaped experiment named Ogmo. In the year 1888, scientists began a project to create the ultimate soldier, Ogmo being one of those experiments. But he was unfinished as the labs were abandoned during World War I. Now, in the year 2004, Ogmo awakens and must escape the lab. It was later re-released as Jumper Redux, which feature both the original levels and an entirely new (and harder) set of levels with improved graphics.
In the second game, Ogmo is being hunted by an unknown businessman that wants to use him to Take Over the World. This game also introduced inertia and friction, allowing for new cool tricks like wall jumping or skid-jumping. The third game has Ogmo searching for a new home on a planet millions of miles away after leaving Earth in a rocket ship. Currently, there are plans for a fourth game in the series, but as of now it's in Development Hell.
There's also Maddy's favourite fangame
: Jumper: The Opposing Forces, about two other experiments being sent to kill Ogmo, as well as a fan-made Jumper 2 Redux
which was going to be an Adaptation Expansion to Jumper Two, but now remains incomplete.
Ogmo appears in Super Meat Boy as a playable character.
Not to be confused with the 1992 book or the 2008 movie.
---
The Jumper series provides examples of:
Escort Mission: 10-2 in Jumper Two.

You and Gostbot will need to work together to escape the room. However, it's not really Gostbot that's the concern, it's you, since you have to do most of the work.
Nostalgia Level: In Jumper Two, Sector 8 has 5 annoying difficult levels from the first Jumper game, slightly altered with the new Jump Physics in mind. And the final bonus level of Jumper Three does it again.
Pictorial Speech-Bubble: In Jumper Three, Ogmo and the planet's natives communicate with each other using speech bubbles with pictures in them.
Playing Tennis with the Boss: Played straight and subverted in Jumper Two. When you first face The Boss, you'll need to dodge spikes and his red energy balls while hitting the blue energy balls at him.

When you face him for the second time, it's now on a platform with Princess and Upside, and when you hit a blue ball, it hits Gostbot instead so you can encourage him to attack the final boss.
Pressure Plate: Red tiles turn green and activate something when a block is pushed over them.
Replay Mode: The stage select screen in Jumper Two lets you replay any cutscene you've seen in the game so far.
---