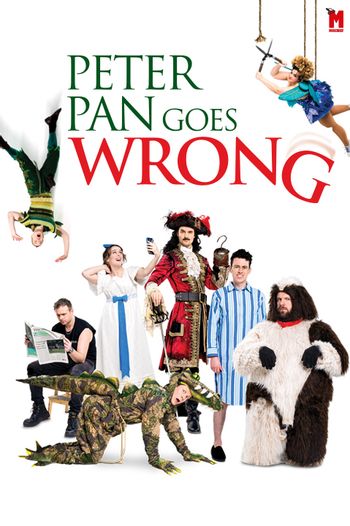 "Obviously, he wasn't thinking his happy thoughts."
—The Narrator, after some snapped cords send an actor falling
Peter Pan Goes Wrong is the sequel to The Play That Goes Wrong, also written by Henry Lewis, Jonathan Sayer, and Henry Shields. They are all part of the Mischief Theatre Company.
The Cornley Polytechnic Drama Society, riding high on their previous successful play performances, has been commissioned to perform Peter Pan for the holiday season, as it is a traditional Christmas vignette and not a Pantomime (Oh yes it is!). Once again, just about everything that can go wrong does, and some cast drama even gets pushed to the forefront.
In 2016, The BBC televised an hour-long live production of Peter Pan Goes Wrong, narrated by David Suchet, with parts of the script revised for TV. It was followed by A Christmas Carol Goes Wrong.
Peter Pan Goes Wrong contains examples of: