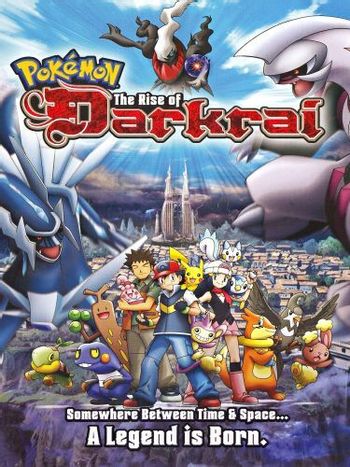 Somewhere between time & space...a legend is born.
Pokémon: The Rise of Darkrai, known in Japan as Dialga Vs Palkia Vs Darkrai, is the tenth film in the Pokémon franchise, and the beginning of a trilogy of Diamond and Pearl films.
Set in Alamos Town, two deity Pokémon, Dialga and Palkia, are fighting. Ash and his friends take the time to visit the city, but little do they know that a Mythical Pokémon, Darkrai, lives there. Assumed to be a threat, Darkrai defends himself from all the trainers (especially Ash and his friends) as they try to stop the fighting between Dialga and Palkia.
---
This movie provides examples of:
---