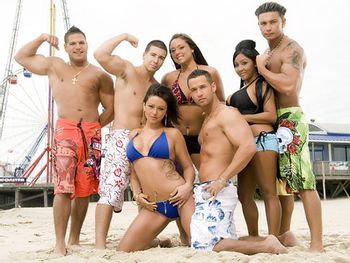 Jersey Shore is a Reality TV show on MTV, that has become one of the network's most popular if not polarizing shows. A reality TV show in the same vein as The Real World, it follows a group of Italian-American twenty-somethings as they party and engage in debauchery, both on the New Jersey beach party scene and in other locations (Miami and Italy).
Unlike The Real World, Jersey Shore has (with few exceptions) kept the same cast intact over the course of the show's run. In part, due to the meme-like nature of the original casts, whose over the top nicknames and personas made them instant celebrity fodder that you either love or hate. (Or Love to Hate.)
Various knockoffs exist outside the USA, including the Dutch version, Oh Oh Cherso (and its second season, Oh Oh Tirol) and the Irish version Tallafornia while the Brits have both Geordie Shore and The Only Way Is Essex. The Canadians attempted to make their own version, Lake Shore (set in and around Toronto), but it was scrapped.
In April 2018, the show returned as Jersey Shore: Family Vacation with all of the original cast returning to the show except for Sammi. A second season has been ordered ahead of its premiere date.
---
Tropes:
---