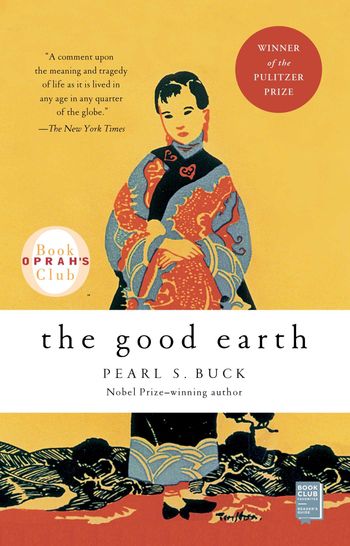 The Good Earth
is a novel by
Pearl S. Buck
, first published in 1931. It won the
Pulitzer Prize
in 1932, and topped the best-seller lists in the United States for 1932
and
1933. It is the first, and by far the best-known, book in a trilogy which continues in
Sons
(1932) and
A House Divided
(1935). Though Buck was an American, she spent most of her early life in China, and
The Good Earth
is credited with doing much to humanise and demythologise China and Chinese people to Americans. By contrast, the book's unflinching depiction of some of the grimmer aspects of life in China have made it less than popular there.
The story concerns Wang Lung, a pre-revolutionary farmer who works his fingers to the bone to become successful with the help of his arranged-marriage wife O-Lan, only to drift away from his roots when he does achieve success.
The Good Earth was adapted for the stage in 1932, and a film version was released in 1937. The film, directed by Sidney Franklin, starred Paul Muni as Wang Lung. For her role as his wife O-Lan, Luise Rainer won an Academy Award for Best Actress. The film also won the Academy Award for Best Cinematography, and was nominated for Best Director, Best Film Editing and Best Picture. Despite Pearl Buck's objections, all the leading roles were given to white actors in yellowface.
Shaw Brothers made a rather loose adaptation titled Sons of the Good Earth in the 60s.
---
Contains the following tropes:
---
Tropes unique to the 1937 film:
---