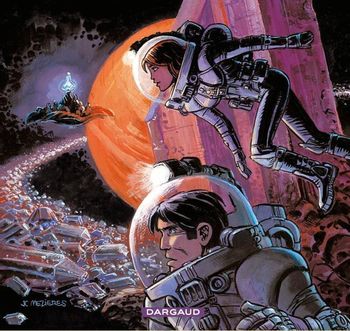 Valérian (later Valérian et Laureline) is a French-Belgian comic book series by Jean-Claude Mézières and Pierre Christin published from 1967 to 2010.
In the 28th century, Earth is the center of a powerful galactic empire, governed along technocratic lines from its capital Galaxity. The basis of Earth's power and civilization is its mastery of Time Travel, which makes both instantaneous travel and control of history possible. An elite corps of time travel agents has been created so as to maintain order throughout time and space, and Valérian is one of its members.
After a trip to the Middle Ages to capture a Mad Scientist who was attempting to alter human history, he met a local girl named Laureline and hired her as his fellow agent.
The series has long been suspected to be a key visual influence on Star Wars, which it predates by a decade. It also influenced The Fifth Element, for which Mézières was actually hired to draw some décors and machines.
A French-Japanese Animated Adaptation of the series was released in 2007 titled Time Jam: Valerian & Laureline.
Speaking of The Fifth Element, Luc Besson directed a Live-Action Adaptation movie of Valerian that came out in 2017, Valerian and the City of a Thousand Planets, starring Dane DeHaan and Cara Delevingne in the main roles.
---
This comic book series contains examples of:
Polyglot: Valerian jokes he's becoming one due to the amount of languages he learns with the mnemonic helmets.
Powers That Be: Many stories involve shadowy political or corporate powers, such as The Master in "Birds of the Master", the greedy multinational companies Bellson&Gambler and WAAM in "Metro Chatelet, Direction Cassiopeia" and "Brooklyn Station, Terminus Cosmos", the elusive rulers of Rubanis in "The Circles of Power", and last but not least, the Lords of Hypsis whose influence is subtly behind almost every storyline.
Precision F-Strike: After staying too long in the 1980s, Valérian begins to pick up time-appropriate swear words which he uses with increasing frequency.
Space Elves: The blue-skinned, pointy-eared Masters.
Space Jews: Subverted with the Pearls from planet Mul. Their attire and habitat seem like a combination of Ancient Egyptian, Maasai, and Polynesian. But they do produce pearls (wealth) in large quantities and learn many languages and skills- very reminiscent of the overachieving Jewish stereotype.
---