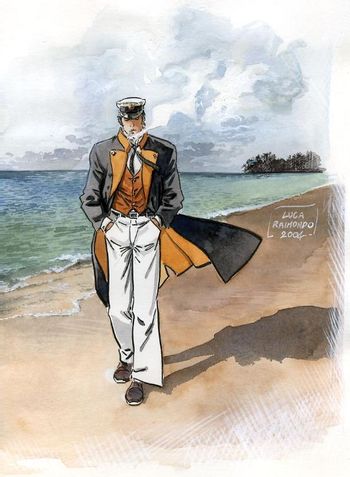 "When I want to relax, I read essays by Engels. When I want something more serious, I read Corto Maltese."
Corto Maltese is a graphic novel series created by Hugo Pratt in 1967, and one of the most famous examples of the French-Belgian comics school at its best (even though the author was actually Italian). The best-known adventure, Una Ballata Del Mare Salato (The Ballad of the Salt Sea) made Le Monde's "100 Books of the Century" list.
The title character is a fictional adventurer active during the years before, during and after WW1. Born of a sailor from Cornwall and a fortune-teller from Gibraltar, Corto Maltese has a lifelong case of wanderlust and travels across the world as a gentleman of fortune, treasure seeker and occasional pirate. His recurring sidekick is a psychopathic Russian named Rasputin (who coincidentally does look like the historical Rasputin).
An Animated Adaptation was released in 2002, Corto Maltese et la Cour Secrète des Arcanes, and Canal+ adapted six of the shorter stories into the 30-minute episode format too.
In 2015, new Corto Maltese adventures by Blacksad author Juan Diaz Canales and artist Ruben Pellejero began, beginning with Under The Midnight Sun. It was followed by Equatoria, a celebration of the series' fiftieth anniversary, and Tarowean's Day, which finally told the story of how Corto came to be tied to that raft in his very first appearance, all the way back in 1967. 2021 saw the release of The Black Sea, a story set in modern times.
The series can be purchased in the Anglosphere via IDW Publishing, who are reprinting the entire series in oversized black-and-white collections.
List of Corto Maltese albums
The following list of Pratt's original albums is in in-universe chronological order.
The Early Years (1905)
The Ballad of the Salty Sea (1913-15)
Under The Sign Of Capricorn (1919-17)
Beyond The Windy Isles (1917)
Celtic Tales (1917-18)
The Ethiopian (1918)
Corto Maltese In Siberia (1918-20)
Fable of Venice (1921)
The Golden House of Samarkand (1921-22)
Tango (1923)
The Secret Rose (1924)
Mu, The Lost Continent (1925)
In 2015, the series was continued by Ruben Pellejero and Juan Díaz Canales, and currently comprises the following albums.
Under The Midnight Sun (1915)
Equatoria (1911)
Tarowean's Day (1912-13)
Berlin Nocturnes (1924)
---
Tropes:
---