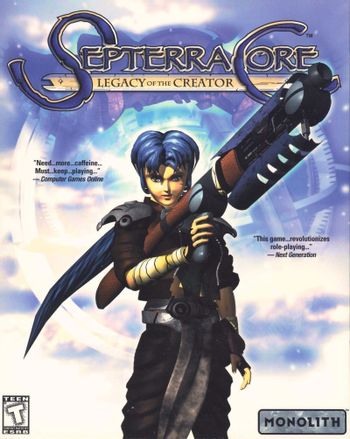 Septerra Core: Legacy of the Creator
is an
Animesque
PC game developed by Valkyrie Studios (a short-lived company founded by employees of
Viacom New Media
after it closed) and published in 1999 by
Monolith Productions
.
The game takes place on possibly the strangest planet in the history of fiction (vying with Discworld). Instead of your standard fantasy Patchwork Map, Septerra (Sep=seven/terra=world) is a literal Layered World.
The center of the planet is the immense biocomputer Core, and seven layers of continents, called World Shells, orbit around it, each connected to the next by a giant bio-organic Spine.
Best place for a holiday ever, yes?
According to the mythology, Septerra was built by the Creator, who placed a mysterious artifact in the center of the Core, that would grant the user ultimate power. Gemma, God of Evil, stole the keys to the Core and kidnapped Kyra, angel of light, whom he wanted to become his wife/sex slave (he's a god of evil, is there any difference?). The Creator sent his son, Marduk, to save the day and give this punk a lesson. Marduk gathered an army of people from each Shell, took two demon swords, found Gemma (with little help from Trickster Dogo) and after a hundred day battle, trounced him and threw him into the Pits of Janak. Descendants of Marduk and his Army of the Seven Winds became the Chosen. According to the prophecy, millennia later the world would be in great danger and the keys will be used to save it.
Chosen Lord Doskias, a direct descendant of Marduk and total Jerkass, believes the time has come and he is the Messiah. He plans to save the world, whether the world wants it or not, and has begun a crusade down through the shells, destroying all that gets in his way and a lot that doesn't. Maya, a salvager from Shell Two, accidentally discovers part of his insane plan, and decides to stop him. And the journey begins.
This PC game is currently available on GOG.com and Steam.
---
This game provides examples of:
---