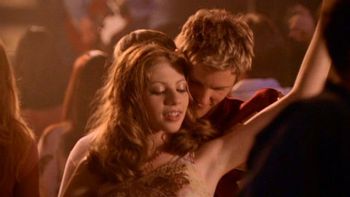 Buffy: "Willow, you're a gay woman!"
Willow: "This isn't about his physical presence! It's about his heart."
Anya: "His physical presence has a penis!"
Willow: "I can work around it!"
Directed by Michael Gershman
Written by Drew Z Greenberg & Rebecca Kirshner
Marching into his apartment, Xander lays out the ground rules for living in his house as Buffy and Dawn walk in behind him. He turns to an exasperated, uninvited Spike, who's standing at the doorway. Xander then reluctantly, halfheartedly invites him in, and it is revealed that Buffy has insisted that Spike needs to leave the basement of Sunnydale High because of his deteriorating mental state, and he has to stay with Xander, at least for the short term, because he has nowhere else to go, a plan that Xander makes no effort to hide his disgust with. Buffy is certain that the events that occurred between the two in "Seeing Red" will not repeat themselves, now that Spike has a soul, though Xander and Dawn remain somewhat skeptical, and Buffy even briefly recoils in shock when Spike grabs her arm while trying to talk to her. Though both Spike and Xander are certain that the arrangement will not work, Buffy is certain that it already is working because, aside from one episode, Spike has "stopped talking to invisible people".
The next day, Dawn questions the very definition of love to Buffy, who shortly leaves for work, obviously also confused with that concept. But, as Dawn continues her rant, she notices a guy in a letterman jacket, having just finished a game, and falls in love.
Later, Buffy saves Anya from an assassin sent by D'Hoffryn, who has obviously decided the former vengeance demon can't be allowed to live. Buffy asks Anya to re-join the Scooby Gang, telling her that something very evil is coming and she'd rather none of her friends be alone. Anya tries to hide her keenness by agreeing hesitantly.
Meanwhile, Dawn practices conversation pieces with herself before then approaching the guy she had seen before, who is named R.J. Brooks. Her plan goes awry, as he keeps reluctantly ignoring her, talking with his friends and girlfriend (a cheerleader) instead. It is established that R.J. is the team quarterback, and that the cheerleading team is now in need of one extra member. After hearing this, Dawn lays out another plan to catch R.J.'s attention, which involves going into the attic in search of her sister's old cheerleading outfit.
Dawn takes part in the cheerleading tryouts held the next day. Her over-exuberant and horrible cheer (which includes the line "We've got a secret weapon and his name is R.J.!") causes her to humiliate and embarrass herself in front of the school, after her attempted cartwheel goes horridly wrong. That night, Buffy tries to comfort her sister through the locked bathroom door as Dawn start weeping about R.J. Buffy is unsuccessful, particularly after her trying to convince Dawn that her "unrequited love" is actually just a teenage crush causes Dawn to whip the door open and scream angrily at her sister.
Buffy further tries to console her sister, but Dawn coldly states that she doesn't need love advice from a dysfunction queen, before asking her sister to leave. Meanwhile, R.J. is confronted and informed that his fellow teammate, O'Donnell, has been promoted to team quarterback by the coach. Dawn witnesses this, and decides that it is not fair for R.J. She takes matters into her own hands as she pushes O'Donnell down a flight of stairs.
Dawn is sent to the principal's office, with Buffy present, as they talk about the situation. Dawn denies that she had anything to do with O'Donnell's fall, but Buffy realizes something is amiss. In the school corridor, R.J. catches up with Dawn, and begins a more friendly conversation with her. After the brief talk, he asks her if she wants to hang out after school, and Dawn wholeheartedly agrees.
That night at The Bronze, Buffy, Willow, and Xander notice R.J. dancing with a racily-clad girl. But the group jumps in horror after realizing that the girl is actually Dawn. Buffy confronts her, telling Dawn off about lying to her, and also scolds her for the way she is dressed, asserting that "Anna Nicole Smith thinks you look tacky". Buffy asks her to leave, and Dawn angrily complies. Outside The Bronze, she is then encountered by R.J.'s girlfriend, Lori. Buffy breaks up a minor cat fight, before Lori leaves, warning Dawn to stay away from R.J.
The next day at school, Buffy watches as Principal Wood lectures R.J. about not doing his own homework and then she herself catches him for another lecture. She confronts him about he way he is treating girls, but quickly, something comes over Buffy after she starts to stammeringly swoon after him. She leaves him off with a "mild warning," and returns home to talk to Dawn. She lies to her sister, telling Dawn that she has "checked him out" and finds R.J. to be a good, solid guy. However, she does advise Dawn to back off a little, and wait for a guy to sweep her off her feet.
Buffy quickly pulls R.J. out of class the next day and leads him into an empty classroom. As she adoringly watch him talk about football, she starts to seduce him and they kiss. Meanwhile, despite Buffy's earlier advice, Dawn looks for R.J.—and finds him. She runs out, bursting into tears, and is comforted by Xander. He goes in to look for Buffy, and finds her half naked and straddling R.J on the desk. They return home, where Buffy and Dawn fight over R.J.
Xander and Spike head out to meet with Lance Brooks, while Willow and Anya research love spells. Despite the fact that he was quite popular in high school, Xander and Spike find Lance has become a loser. After some chatting, the guys realize that the source of the problem is R.J.'s letterman jacket (adding some irony to Xander's earlier sarcastic remark about that jacket being the source of the seduction effect). In the meantime, R.J. shows up at the Summers' home, and after seeing him, Anya and Willow (despite her being a lesbian) also fall in love. Eventually, the four girls fight over who loves R.J. the most, and decide to have a contest to see which of them is more ready, willing and able for R.J. As the three other girls head off, a depressed Dawn finds herself out-shadowed.
The girls then go out of their way to prove their respective loves. Willow starts a spell to turn R.J. into a woman (to fulfill her sexual orientation), Anya takes off to rob a bank, Buffy prepares to blow Principal Wood away with her old rocket launcher, and, finally, Dawn lays herself across railroad tracks.
Xander and Spike return home just in time to stop Willow from completing her spell. They then head off to the high school to prevent Buffy from killing Principal Wood. After successfully distracting Buffy, the gang casts a locator's spell to find Dawn. They reach the train tracks just in time before a speeding train flattens the younger Summers. Buffy outruns the train and rescues her sister. Apparently, Dawn's attempted suicide knocks some sense into her, and in turn, Buffy tries to assure Dawn that no guy is worth her life. Dawn begins to see sense, and they return home that night. This time they try to hatch a plan to destroy R.J.'s letterman jacket. Xander and Spike manage to take the letterman's jacket off R.J. without any trouble, and the Scoobies witness its burning in the Summers' fireplace.
Buffy and Dawn reconcile, the love spell is broken, and everything is back to normal. Dawn apologizes for how she acted and talked to Buffy, and how stupid she felt that she "did it over a spell". Buffy forgives Dawn and tells her to "be prepared to feel even stupider when it isn't" over a spell. The girls lament about what they all 'almost' did. However, as they ask Anya what she almost did, she stalls. Then comes a news report about a wanted bank robber. Anya instantly takes the opportunity to switch off the radio and calls out "OK! Great! Ice cream! My treat?
---
Tropes:
---