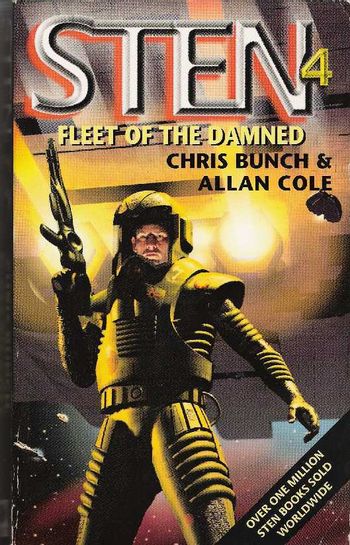 The
Sten
series is a science fiction saga written by Allan Cole and Chris Bunch. The eponymous protagonist is an orphan from a hellish industrial space station, who escapes prison and indentured servitude to join the Emperor's armed forces (well, he was sort of pressed into the service, but it beat the hell out of industrial slavery).
His native talent and the skills he acquired not dying on the hell-world Vulcan come in handy in the military, and he goes on to become a covert operative in the enigmatic Mercury Corps, the Emperor's special forces.
Throughout the course of the series he adds to his rank, consequence and badassery. He has as much success with women as one would expect of a covert operative, only with more monogamy than your average James Bond.
Because almost every single character in the series is a member of a military, expect to see a lot of Combat Tropes, Military and Warfare Tropes, Espionage Tropes, and badass tropes.
Sten now has a Character Sheet. Please to add examples to it.
---
This series contains examples of:
---