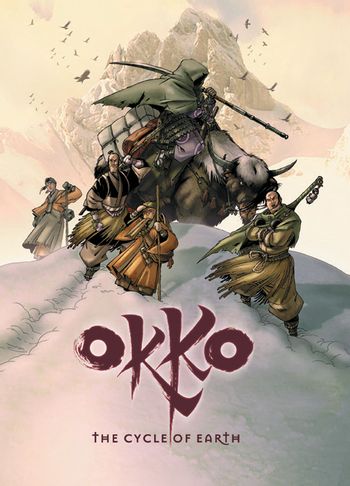 A graphic novel series created by French artist Hub. Set in a Fantasy Counterpart Culture of Medieval Japan, it follows the journeys of Okko, a Rōnin dedicated to hunting down the demons that plague the wartorn Empire of Pajan. He's accompanied by Noburo, a gigantic fighter who hides his face behind a mask, Noshin, a drunken monk who is actually a rather capable spellcaster, and Noshin's young apprentice Tikku, who is indebted to Okko after the ronin attempted to help him rescue his sister from kidnappers. They travel from place to place, rooting out evil wherever they find it.
The series has been praised for its immensely detailed artwork and well-researched setting. It's divided into several volumes or "cycles", each named after one of the classical elements of Water, Earth, Air, and Fire, and the titles somewhat reflect the setting of each story: the Cycle of Water takes place on a chain of small islands, the Cycle of Earth occurs in a mountain range, the Cycle of Air in a valley tormented by yearly cyclones.
A tactical game based on the comics, Okko: Era of the Asagiri was released in 2008. The Red Joker then published Okko Chronicles after raising €195,149 in a
Kickstarter campaign in 2017.
The Red Joker funded Okko - Oni Hunters card game through
Kickstarter in 2020 as part of their Versus line of games.
Not to be confused with OK K.O.! Let's Be Heroes.
---
This comic series contains examples of:
---