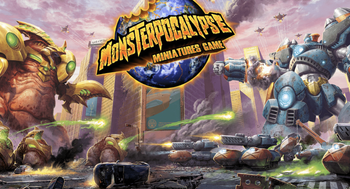 Monsterpocalypse is a collectible miniatures game from Privateer Press.
The idea is pretty simple: players take the role of giant monsters representing one of several factions vying for control of the Earth. The game itself is a little more complicated...
In a game of Monsterpocalypse, each player's monster is supported by up to 15 smaller figures representing "units", most of which can assist in fighting and some of which provide additional abilities to other figures. There are also figures that represent buildings, from apartment buildings and commercial skyscrapers to industrial sites, radar stations, and headquarters installations for the various factions, most of which will get destroyed during the battle between the two monsters; each player brings 2 to 12 buildings with which to populate the play map representing the battlefield.
Gameplay revolves around a pool of Action Dice which are used to spawn units, or to move or attack with units or monsters. Action Dice spent on units are moved into the pool for the monster, and vice versa; thus, players usually alternate between a Unit Activation (where they spawn, move, and attack with units) and a Monster Activation (where they move and attack with their monster). Players can also "power up" their monster by rolling action dice; this gives Power Dice that can be spend on devastating Power Attacks, to enhance regular attacks, or to transform their monster from its default Alpha form to its more powerful "Hyper" form. The object of the game is to defeat the opponent's monster by killing both its Alpha and Hyper forms.
The game's first core set, Rise, offers six factions:
G.U.A.R.D. (Protectors), a paramilitary force backed by the United Nations, spearheaded by giant robots and supported by an army of high-tech combat vehicles. Think GDI backing up Mazinger Z, and you're not far off the mark.
Terrasaurs (Radicals), dinosaur-like giant monsters, akin to Godzilla, that primarily target heavily-polluting industrial centers, and have thus earned the support of the Eco-Terrorist group Green Fury.
Lords of Cthul (Fiends), giant, eldritch, extra-dimensional monsters summoned by a secret cult that now rampage throughout major cities, spreading fear and terror apparently for the sake of it.
Planet Eaters (Destroyers), enigmatic aliens who seek only to ravage cities and consume as much biomass as they can find.
Martian Menace (Invaders), desperate alien invaders from the dead planet Mars who seek to plunder Earth of its rich resources.
Shadow Sun Syndicate (Collaborators), an enigmatic criminal cartel based in Japan that plots to save (and then take over) the world by fighting off the other factions with Ultraman-like super-soldiers known as Zors that can grow to the size of skyscrapers.
The following sets, I Chomp NY and All Your Base, introduced new monsters, new units, and new buildings. The fourth set, Monsterpocalypse Now, introduced six further factions:
Elemental Champions (Protectors), heroic samurai monks who channel the power of the elements to conjure giant warriors in order to combat the various threats to world peace.
Empire of the Apes (Radicals), giant apes from Darkest Africa who fight savagely to protect the balance of nature. Think Gorilla Grodd leading King Kong and the Rise of the Planet of the Apes.
Subterran Uprising (Fiends), underground-dwelling humanoids who, at the behest of their tyrannical new Underlord, seek to take over the surface world and enslave humanity.
Savage Swarm (Destroyers), voracious mutated insects who have emerged from the American Midwest and started devouring everything in their path.
Tritons (Invaders), undersea conquerors armed with giant sea monsters and amphibious assault craft that seek to take Earth's coastal cities for their own. Second edition moves them to the Protectors side.
Ubercorp International (Collaborators), a sometime rival of the Shadow Sun Syndicate that has begun producing fierce robot duplicates of monsters from other factions for their own sinister purposes.
Big In Japan released even more monsters, units and buildings.
The game is also being used as the basis for a Voltron game, where Voltron and the Galaxy Garrison forces fight the Robeast Lo-Tron and the Drule Empire. All Voltron units use the same rules and stats as the rest of Monsterpocalypse (Galaxy Garrison are Protectors, Planet Doom are Fiends), and are fully compatible. So if you desire to have the G.U.A.R.D. to face down the Drule Empire, or want to see Voltron battle Martians, you can.
Desperado Publishing produced a Monsterpocalypse Comic Book series in 2008 to 2008.
In summer of 2010, a movie adaptation directed by Tim Burton and written by John August was announced.
A Continuity Reboot was announced in 2018
, taking the game more in a miniatures wargaming direction: models that you have to assemble and paint, but getting rid of the blind-bags and allowing you to more easily convert the miniatures. Naturally, there are also more Monsters and Units, more Factions, and a few of the existing ones have been shuffled about. The Tritons have thrown in with the Protectors, and Green Fury is growing into their own force. Also, Radioactive Ooze, Invaders from alternate dimensions, and giant Space Dragons are all coming to play.
A standalone board game, published by Mythic Games was crowdfunded on Kickstarter in 2021.
---
This game features examples of the following tropes:
Adaptational Heroism: The Terrasaurs in the 2nd edition. The 1st edition had them as Radicals who would attack human cities. In the 2nd addition they fight in defense of Earth rather than attacking humans and most of them are stated to go out of there way to avoid hurting humans when they can.
Anti-Villain: The Martian Menace are aliens invading Earth, but are doing so because they exhausted their planet's resources and need a new home to inhabit.
Bland-Name Product: Applied to a few monuments:

Imperial State Building = Empire State Building.
Crystalline Building = Chrysler Building.
Tokyo Triumph = Tokyo Tower.
---