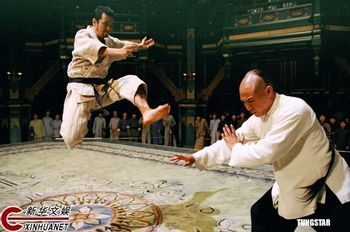 This is about the 2006 Chinese Wuxia movie. For the 1993 Peter Weir plane crash film, click here.
Fearless (original title: 霍元甲) is a movie starring Jet Li, directed by Ronny Yu and released in 2006. It is a heavily fictionalized biopic of famous martial arts master Huo Yuanjia (1868-1910).
Huo was the son of a wushu professor in Tianjin, but because of his poor health, he wasn't allowed to study martial arts himself. However, after seeing his father lose a fight against a dishonorable adversary, he decides to become a master in his own right in order to redeem the family name.
As years go by, Huo's fame rises, but so does his vanity. One day, he confronts Qin, the master of a rival school and, in the heat of combat, deals him a deadly blow. The latter's followers retaliate by killing Huo's mother and daughter. Stricken with grief, he wanders the countryside in a state of shock, and is taken in by a kindly old woman and her blind granddaughter.
Sharing their life and that of the simple country folk in their village, he nurses himself back to psychological health. In 1907, a more mature and humble man, he returns to Tianjin, and is appalled by the decay of Chinese society and the arrogance of foreigners. He restores his fame by winning a fight against an American wrestler, and with the financial backing of an old friend founds the Jingwu Association
, a martial arts school in Shanghai.
Incidentally, Jet Li also starred in the 1994 movie Fist of Legend (itself a remake of the Bruce Lee movie Fist of Fury), where he played the fictional student of Huo Yuanjia out of get justice for the death of his master after he is murdered, so while they have very different continuities, the film could be considered a Spiritual Successor of sorts to that one.
Unrelated to Fearless (1993).
---
Contains examples of:
---