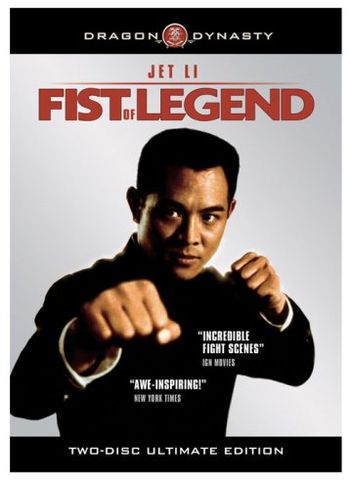 Fist of Legend (Chinese: 精武英雄; pinyin: Jīng Wǔ Yīngxióng; literally "Hero of Jingwu") is a 1994 Hong Kong martial arts film directed by Gordon Chan, starring Jet Li, and with fight scenes choreographed by Yuen Woo-ping. It is a remake of the 1972 Bruce Lee film Fist of Fury.
Set in Shanghai International Settlement in 1937 during the Second Sino-Japanese War as the city is occupied by Japanese forces, Chen Zhen (Li) is a student of the Jingwu School of martial arts studying abroad in Japan at the start of the film. When he gets devastating news that the master of the school, Huo Yuanjia, has been killed back at home in a match with a Japanese martial artist, he heads back to Shanghai. Seeking out and combating the martial artist that defeated Yuanjia himself, he determines that the the man could never have beaten Yuanjia on fair terms, and that therefore foul play must be at work. Sure enough, digging up Yuanjia's body, it is discovered that he was poisoned before the fight. But why? And by who? Before Zhen can find out, however, the fighter that defeated Yuanjia turns up murdered, and he must contend with the authorities who suspect that he did it. He also must contend with Jingwu School itself, which is none too pleased when it discovers Zhen has fallen in love with a Japanese woman.
The film, thankfully, tones the rather virulent anti-Japanese sentiment that was present in the original film down a bit. Whereas the conflict between China and Japan is still a theme, it's portrayed in a less-cartoonish one-sided light, and there are several noble Japanese characters.
See also the movie Fearless (2006), a sort of loose Spiritual Successor with its own continuity, where Li plays the master Huo Yuanjia himself note Huo was a real person, but that film was clearly influenced by this one, including a subplot where Huo is poisoned before a match against a Japanese opponent, which never happened in real life.
Has a similarly named semi-reboot prequel in 2010.
---
This film provides examples of:
---