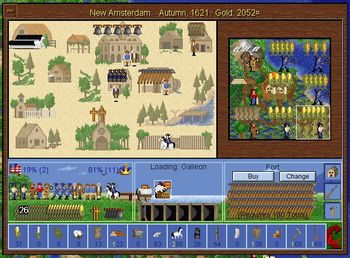 Sid Meier's Colonization is a Turn-Based Strategy game from 1994. In Colonization
you colonize the New World as either England, Spain, France or the Netherlands.
In many regards it resembles its spiritual predecessor, Civilization, as you build cities, grow your population, wage war with other factions and in general guide your faction towards an end goal, in this case independence from the mother land. However, the main difference with the Civilization games is that your population consists of different specialists. You have lumberjacks, elder statesmen, fishermen, blacksmiths, indentured servants, gunsmiths and tons and tons of other types. To get a productive empire, you need to have a combination of all these specialists. Another important feature is that the player can get "founding fathers" like Washington, Cortez or Simon Bolivar, who give unique benefits to your country.
In 2008 a remake named Sid Meier's Civilization IV: Colonization came out.There's also an open-source Fan Remake of the game, called FreeCol
(you can switch between "Classic" and "FreeCol" rules).
---
This game presents examples of the following tropes:
---