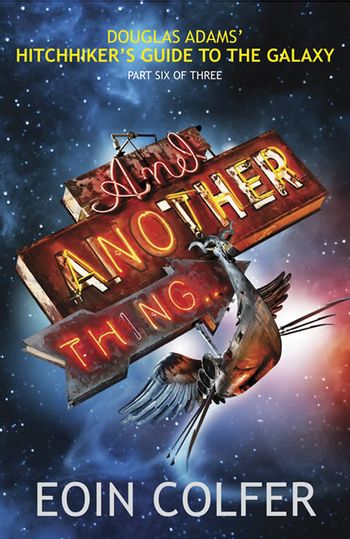 And Another Thing... is the sixth book in the increasingly inaccurately-named The Hitchhiker's Guide to the Galaxy Trilogy. It's notable for being the first installment of the series not written by its creator, Douglas Adams, but by Eoin Colfernote although it's very difficult to tell at times and painfully easy at others, author of the Artemis Fowl series (not counting Starship Titanic, a tie-in novel written by Terry Jones of Monty Python fame). The book was released on October 12, 2009, to coincide with the thirtieth anniversary of the first book's original publication. Its storyline follows directly from where the fifth book, Mostly Harmless, left off.
Seconds before the Grebulons (the clueless, would-be alien invaders from Mostly Harmless) demolish the alternate-universe Earth as part of a crafty gambit set up by the Vogons over the course of the previous books, our protagonists (Arthur Dent, his daughter Random, her mother Trillian Astra, and their friend Ford Prefect) are given one last shot at self-preservation by the Guide Mk. II, who abandoned Vogon Jeltz's side to fulfill Random's dying wish.
Almost at once, the gang is rescued by Galactic President Zaphod Beeblebrox, who, apparently, had been up to some very funny business since his last appearance. Now indebted to Wowbagger the Infinitely Prolonged, an aeons-old immortal, the President embarks on a quest to meet with the Nordic thunder-god Thor to fulfill his part of a very odd bargain. Meanwhile, Arthur Dent is elated, and the Vogons are very displeased, to find that the human species may yet live on, in the depths of a faraway dark nebula... (bohm bohm bohhhhm!!)
Features a guest appearance by Cthulhu. It all makes sense in context.
Preceded by Mostly Harmless.
---
And Another Thing... provides examples of the following tropes:
---