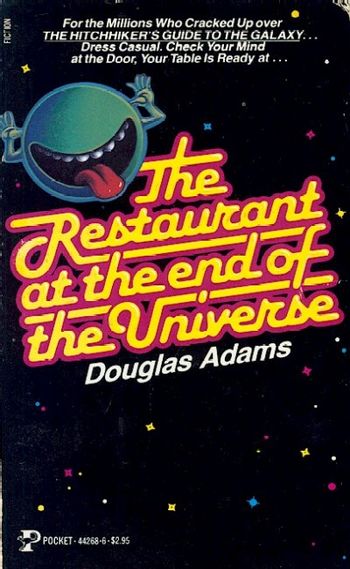 There is a theory which states that if ever anyone discovers exactly what the Universe is for and why it is here, it will instantly disappear and be replaced by something even more bizarre and inexplicable.

There is another theory which states that this has already happened.
The Restaurant at the End of the Universe (published in 1980) is the second book in the increasingly inaccurately-named The Hitchhiker's Guide to the Galaxy Trilogy. It constitutes the second half of author Douglas Adams' original radio story; due taking a legendarily long time to finish his manuscripts, he couldn't fit the whole thing into one book and his publishers told him to just give them what he had and that they'd publish the rest separately later. Those familiar with the radio series knew what to expect here before Life, the Universe and Everything took them to wholly new pastures.
Following directly after the events of The Hitchhiker's Guide to the Galaxy, The Restaurant at the End of the Universe finds our motley crew (hapless Englishman Arthur Dent, his alien friend Ford Prefect, human female Trillian, Galactic President Zaphod Beeblebrox, and Marvin the paranoid android) under attack from the Vogons, this franchise's brand of bureaucratic-minded green-skinned space invaders, after the destruction of the Earth. They manage to escape with some supernatural help, and Zaphod gets caught up in the conspiracy that compelled him to become President and steal the starship Heart of Gold in the first place (which he erased his own memory about for security reasons, and has no desire to get back). After finally finding out from fellow conspirator Zarniwoop that their objective is to meet the person who actually rules the universe, he decides not to go along with it and escapes.
Instead, our heroes go out to lunch at "the nearest place to eat" — which turns out to be the luxurious Milliways, the title restaurant, where diners can enjoy witnessing the destruction of all creation while being treated by food that literally begs to be eaten and entertained by the stylings of stand-up comedian Max Quordlepleen. Following an incident involving a dead rock star's high-class stunt spaceship and a rather large sun, Arthur and Ford end up teleported onto a massive space ark full of telephone sanitation engineers (among other middlebrow professions) two million years into the past... while Zaphod and Trillian end up right back where they started.
In the end, Zarniwoop drags Zaphod and Trillian along with him to meet the man who rules the universe... and gets an unpleasant shock. Arthur and Ford find themselves stranded on a prehistoric Earth, where the true and shocking origins of the human species — and the final outcome of the program to find the Ultimate Question — are gradually revealed to them.
Preceded by The Hitchhiker's Guide to the Galaxy. Succeeded by Life, the Universe and Everything.
---
The Restaurant at the End of the Universe provides examples of:
---