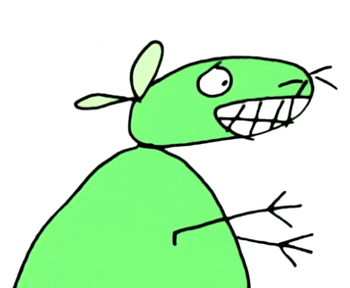 Outta my way, I'm drunk as hell!
I'll blow your ass away, like a ring of a bell
Pedal to the floor, and the whiskeys flowin'
I got a porn-shoot, I gotta get goin'
You don't understand, you don't give a damn
(12 oz. Mouse, 12 oz. Mouse!)
(12 oz. Mouse, 12 oz. Mouse!)
Jet car's rollin' all night long, crankin' up the jams and singing along,
Car full o' bitches and brand new bong!

12 oz. Mouse (sometimes abbreviated as ozmo) is an animated series that originally ran for two seasons on [adult swim] from 2005-2007, with a third season premiering thirteen years later in 2020. It is the brainchild and pet project of Aqua Teen Hunger Force co-creator Matt Maiellaro.
The show's narrative centers around Mouse Fitzgerald ("Fitz"), a green, beer-swilling, chaotic neutral mouse who lives in a violent, nihilistic town apparently made out of cardboard. Fitz takes on a series of oddjobs for Shark, a non-anthropomorphic blue shark, and botches each one spectacularly through his propensity for drinking and his inability to focus on the simplest of tasks. As the series progresses, Fitz has flashbacks of a lost previous life, including a wife and daughter he didn't know he had. As he attempts to put together his forgotten past, he runs afoul of several of the town's more bizarre citizens, including a giant eyeball, a one-handed corndog farmer, and a wealthy square. Everyone knows something, but they're not telling, and most of them have their own problems.
Though ozmo is remarkable for its moody story, its brilliant soundtrack, and its breathy, melodramatic voice acting, the series is mostly remembered for its abject visual austerity. Most of the characters are rendered in simple line drawings (hand-drawn by Maiellaro) and the backgrounds are rarely more detailed than that; Maiellaro joked
that he pitched the series by telling the network, "This will cost about five dollars and will take some of the paper sitting in the copier." If you've ever seen the show, it's not too hard to believe him.
A half-hour special aired in October 2018, followed by the announcement of the aforementioned third season in 2019. The third season began airing on July 20, 2020, and ended at the end of the same month on July 31. Sadly, in February 2021 creator Matt Maiellaro confirmed that the show was canceled once again, citing "a new agenda from [as] that the show didn't fall under".
---
"I've got a lot on my mind and a lot of tropes in my hand."
---
Now when nights get lonely, I need someone to save me
Tonight is the night. I won't fall, won't break down
Show me your surrender, I'm scared
But I'll pretend I am not
Nothing brings me back down
I am the 12 oz. Mouse!

---