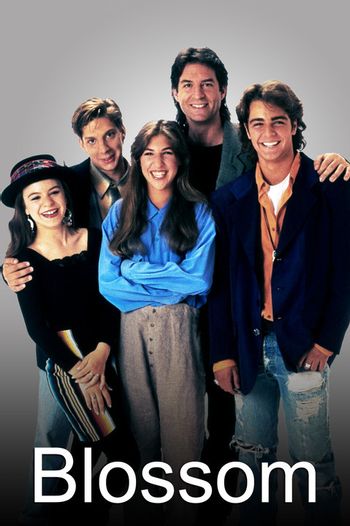 "Don't know about the future, that's anybody's guess,
Ain't no good reason for getting all depressed.
Buy up your pad and pencil, I'll give you a piece of my mind,
In my opinionation, the sun is gonna surely shine.
Stop all your fussin',
Slap on a smile,
Come out and walk in the sun for awhile.
Don't fight the feeling, you know you want to have a good time.
And in my opinionation, the sun is gonna surely shine."
— Opening theme song
Blossom was a sitcom that aired on NBC from 1990 (when it premiered as a midseason replacement series) to 1995. The show centers on Blossom Russo (Mayim Bialik), a teenage girl living in Los Angeles with her musician father Nick (Ted Wass), whose wife left him, and older brothers Tony (Michael Stoyanov), a recovering drug addict, and Joey (Joey Lawrence), a dumb jock. Often dropping by is her gabby best friend Six LeMeure (Jenna von Oÿ).
Bill Bixby served as director for 30 episodes, finishing out his career before his untimely death due to cancer.
Midway through the show's run, the writers put more emphasis on the Joey character (played by pop music sensation Joey Lawrence).
Is somewhat infamous for its frequent use of very special episodes and dream sequences.
After being off the air for several years, reruns finally resurfaced on The Hub in July 2014... only to leave in October 2014 when The Hub was rebranded as Discovery Family. Currently on Tubi.
---
This show contains examples of:
---