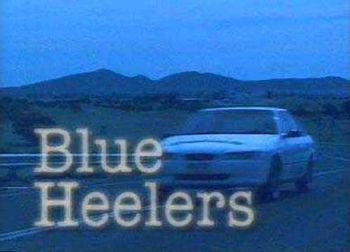 "For the police of Mount Thomas, life is about more than the badge."
Thanks to Underbelly, you might think that the most dangerous place in Victoria, Australia between 1994 and 2006 is Melbourne. Right?
Try about 300km Northwest, in Mt Thomas.
The long running and much beloved Australian drama, Blue Heelers centers on the police and residents of a small country town. Set in the fictional Victorian town of Mount Thomas, located near Swan Hill and Benalla, it portrays the job and lives of the officers stationed there as they come to terms with everything from murders and drug runners to community events to how their careers affects their lives. Much like Heartbeat, stories would center around the mundane, such as a vandal who turns out to be a chook (though this would end in the show's final seasons) and is willing to ignore the premise of the show: crime, in favor of Character Development.
---
This show provides examples of:
---