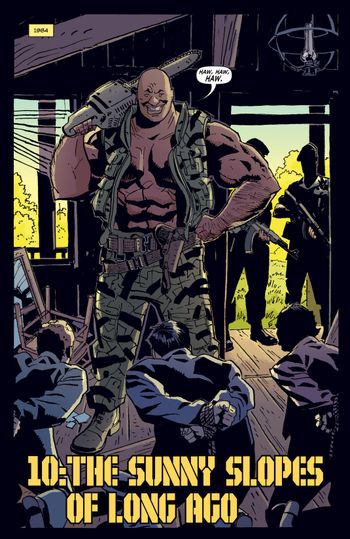 "Cristu told me something, about when you and him were starting out. Something you said. 'Rape them to break them.' Cristu didn't get it, but you explained. They had to be shown right away just who was in control. They couldn't stop you when you had them lifted off the streets. They couldn't stop you now. They had to understand that they were POWERLESS to prevent anything from being done to them."
With The Punisher being Darker and Edgier, and the Black-and-Gray Morality of Frank Castle being an Anti-Hero who's willing to kill, to be a Complete Monster, one must REALLY stand out.
---
open/close all folders
Examples
Darryl "Fearmaster" King juggles being a Corrupt Corporate Executive, The Don, a Serial Killer, and a Sinister Minister. When not ordering the demolition of inhabited neighborhoods and overseeing experimentation on the downtrodden as a part of his day job as a member of Alchemax Corporation, Fearmaster acts as the head of the Cyber-Nostra, and used his transformative powers on innocent women, disfiguring some and turning others into decorative statues for his amusement. And while he also used his abilities to revitalize those who attended his church, he had the rejuvenations be only temporary so that his congregation would become addicted to them and give him anything in exchange for them, including sex. Fearmaster's contempt for everyone around him also extended to his own allies; when the criminals that the Punisher had locked in his basement begged Fearmaster to let them out, the latter ignored them, and referred to the prospect of them all starving to death as a "bonus".
The Punisher MAX (even Darker and Edgier than 616 Punisher)
Examples
Garth Ennis's run:
"Girls in White Dresses" arc, by Gregg Hurwitz, Laurence Campbell, et al.: "The Heavy"—Jigsaw—is the racist, misogynistic co-leader of a large drug cartel. He and his associates have been terrorizing a Mexican border town by kidnapping women and girls—as young as twelve—and having them work literally to death as slave labor under terrible conditions in his drug lab. Frank notes that the number of crosses in a cemetery indicates the massive scale of the cartel. The Heavy tries to drive Frank away by placing an already-dead little kid at the scene of the shootout to make Frank believe he shot her. Aside from being a very Bad Boss, The Heavy plans to sexually assault one of the workers, and, when Punisher's closing in, orders his men to kill the remaining workers before they can talk to the police.
"Naked Kill" one-shot, by Jonathan Maberry, Laurence Campbell, et al.: Mickey Fane, along with his lover Polly Hu and Mickey's nephew Eleventhree, run a horrific human trafficking operation. Taking monthly shipments of women and making rough pornography with them, they eventually force the women to kill one another until one can go free, only to make her film a video with Eleventhree, named for his massive size, to the point where Eleventhree simply rapes his victim to death. Polly also regularly brings Mickey girls to rape while filming Eleventhree in his movies. When Frank arrives, Mickey callously abandons Polly and Eleventhree to be killed in the security protocol as well, with Frank managing to save the girls, before ambushing Mickey himself when Mickey plans on a new shipment of girls to torture and kill.
---